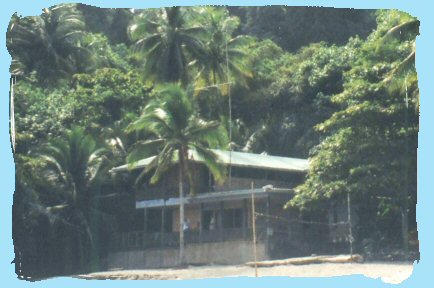 The boat arrives infront of the Park Ranger Station (pictured here). It has an office, public washrooms, an outdoor shower and storage area.
There was a nice couple from Germany, Bernhard and Ruth on our trip, and 2 boat drivers. Plus Roy our professional naturalist guide, who was with us for our trip to Corcovado. Roy is a marine biologist working for Delfin Amor, helping to document the large amounts of dolphin and whale data. Roy's enthusiasm makes the tours superb. His knowledge of Costa Rica's abundant natural wonders is exceptional.
Snorkeling is the main lure to the island. You can do this by the Ranger Station where you are required to where a life jacket. Or go to another area and just jump in the water like we did. The water here is very warm. I did wear a life jacket as I'm not a confident swimmer. Mark was happy to swim free and be able to dive down. Snorkeling equipment is included in the tour from Delfin Amor. There isn't a lot of bright coral, instead a lot of dark volcanic rock home to numerous species of marine life. We saw quite a few different fish. Eels, Morays, and small sharks are common here, but we never saw any. We used one of those underwater disposable cameras, the water itself wasn't crystal clear so these pics aren't the best, but you get the idea.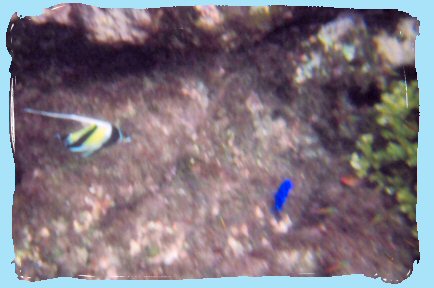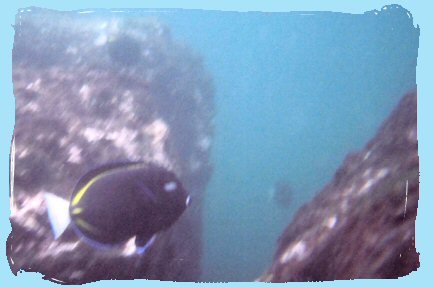 Moorfish Idol and the bright blue is Cortez Rainbow Wrasse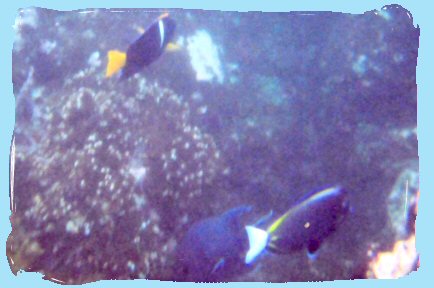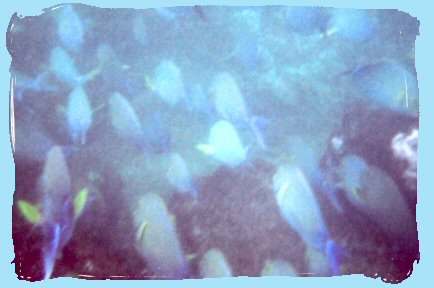 The fish with the yellow tail is a King Angel Fish. This school of fish are Bicolor Parrot Fish
After snorkeling we returned to the beach area. Here you can lay on the beach and work on your tan, play volleyball or explore. We of course choose to explore the beach area. Lots of crabs are scurrying out of your way on the sand. Volcanic rock looks impressive scattered through the Pacific Ocean.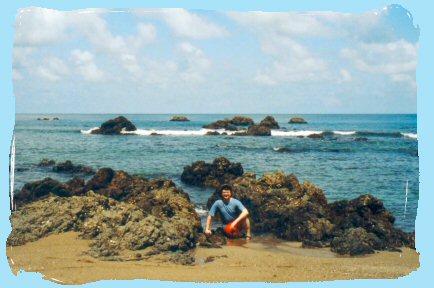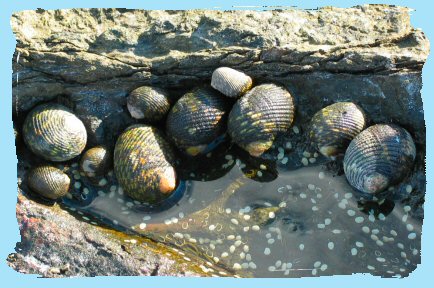 A rich variety of marine life inhabits the tidal pools.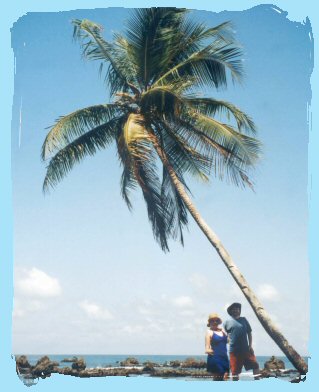 Roy gave us some nacho chips and cookies to munch along the way.
Enjoying the gorgeous views.
Palm trees are so incredible.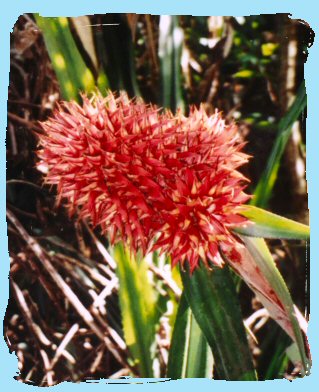 Roy set up our picnic lunch on one of the many tables provided. It was a great spread of pasta salad, sandwich options for the bread. Like tuna salad (which is best added to the pasta salad). Peanut butter and jam, or cheese lettuce and tomatoes. Some cut up veggies to nibble.
Dessert was a variety of fresh fruit, this is when Mark and I discovered we adore mango! A cookie to finish and we were stuffed. Of course we drank lots of juice and water as well.
This is a photo of a wild pineapple.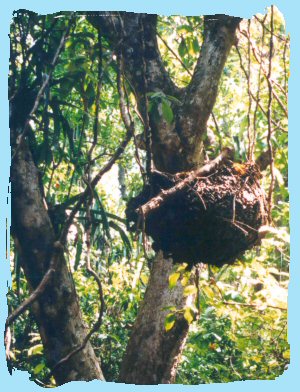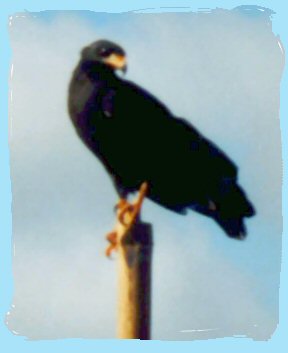 After our food settled, we went for a hike into the forest. The first part was quite a steep hike uphill. Roy told me to go first so I could set the pace best for me and stop when I needed to catch my breath and take a drink. It was a bit of a work out but after awhile the ground leveled out and walking was much easier.
Then Roy went ahead to point out things of interest like this huge termite nest hanging from tree vines. We also saw a small snake sunning itself on a rock, and a couple little lizards and birds like this Mangrove Black Hawk.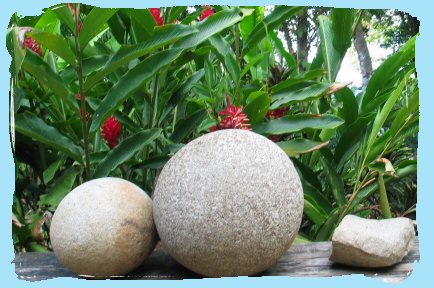 The island is of major archeological importance since it was used as a cemetery by Indians in pre-Columbian times. Small completely round stone spheres are found on the island. Most have been removed and placed in other locations around the Osa Peninsula. They are believed to be grave markers, the bigger, the more important. Indian pottery found on Cano Island dates from 220-800 A.D.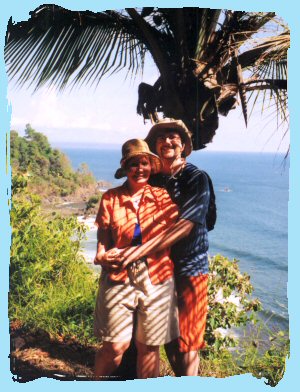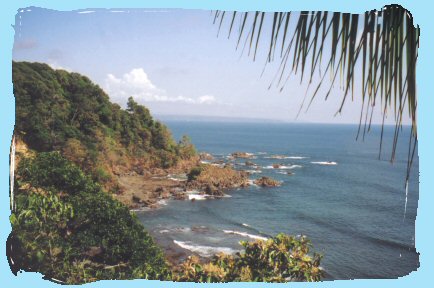 At the end of this particular trail, is a look out point with a spectacular view 90 meters high above the Pacific.
We were quite hot and the beautiful breeze felt amazing. Watch out for the razor grass just before the look out. Mark and Bernhard got scratched pretty good. You return to the Rangers Station, the way you came, so the way back was easier since it's now downhill instead of up.
Before getting in the boat to go back to Delfin Amor we took swim to cool off. We returned about 4 pm. It was another beautiful day in paradise.
An interesting fact about Cano Island is that it gets more lightening strikes then any other place in the world!
(Pura Vida Hotel) (Highlight Tour) (Sansa Air) (Delfin Amor Eco Lodge) ( Dolphin Tour) (Corcovado) (Tabacon Resort & Hot Springs) (Arenal Volcano National Park) (CR Info.) (CR Links)

(Main CR Page) (Home)
Email - Send Comments or Questions to Carla and Mark

All photos by Carla or Mark do not reproduce without permission.
Website design & graphics by Carla Copyright © 2004-2012 fluffytails.ca All Rights Reserved