Dolphin Tour in Costa Rica
Vida Marina Foundation was formed to research and protect the dolphins, whales and other marine life in Drake Bay, on the Osa Peninsula - lower Pacific side of Costa Rica. It is their goal to create a marine sanctuary in Costa Rica. To help their daily research, they offer Dolphin and Whale tours for tourists in small boats. These small boats don't seem to upset the ocean inhabitants. From them, lots of information is obtained, documented and studied to help ensure the precious sea life remains strong.

Our tour was Feb. 14th, 2004. A Valentine's Day that made one of my long long dreams come true! To see and swim with WILD Dolphins in their natural home!

We set out at 8 am, it started raining, the skies were dark and funnel clouds were spotted coming off the water far off to the left. Luckily not the way we were heading. Word from another Delfin Amor boat ahead was that the weather was much better where they were. So we headed about 25-30 miles from shore.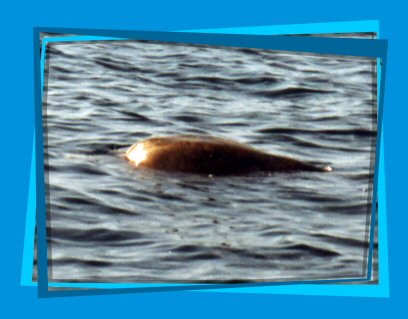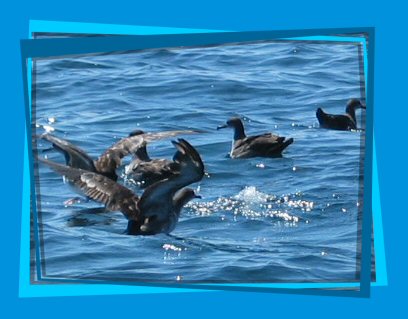 On the way, we saw an Olive Ridley Sea Turtle floating along.

Plus quite a few Brown Booby birds flying around and diving in the water for fish.

A few Dolphins were spotted here and there. Then, almost magically we were viewing
hundreds
of Spinner Dolphins!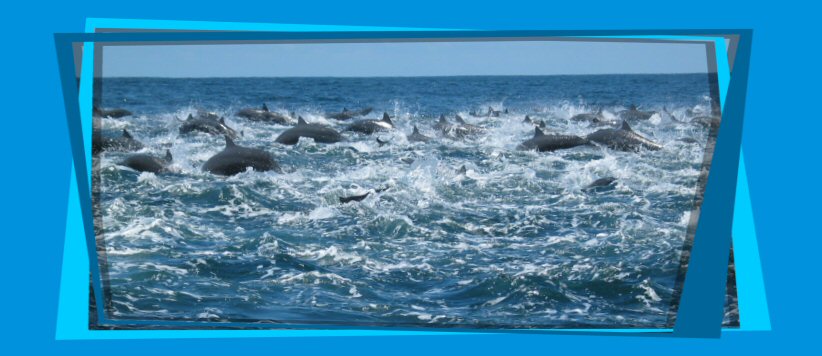 We couldn't believe how many there were. What an incredible sight! Tails and dorsal fins everywhere. I guess for every dolphin you see on the surface they are 10 below it!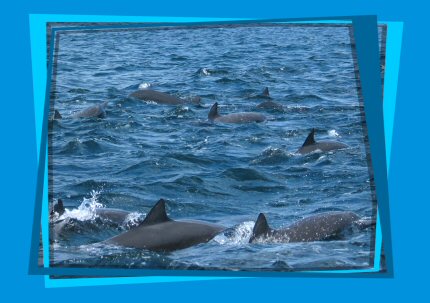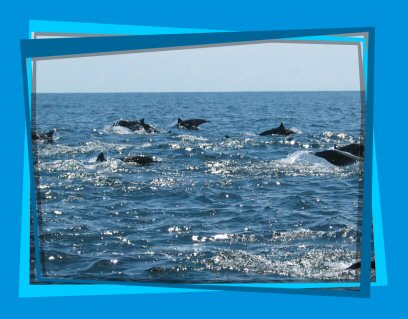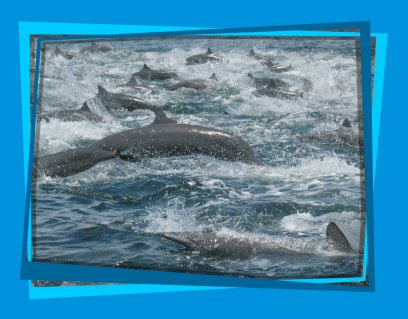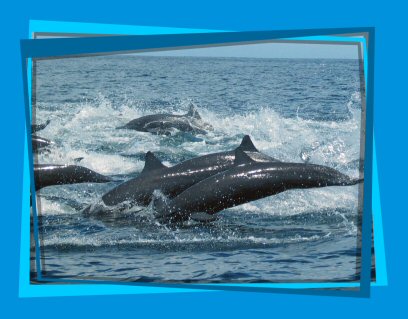 Sometimes they'd swim real fast. They can go 60 miles an hour.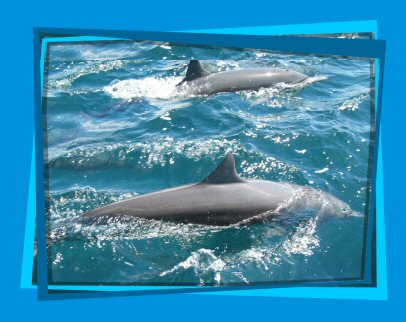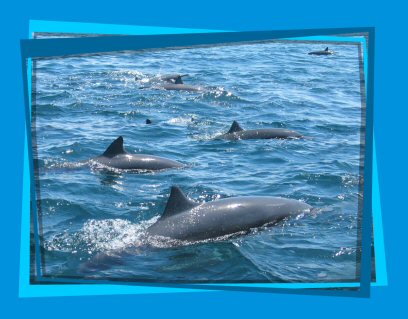 Other times they'd move a lot slower, swimming under our boat and all around us. These Long -snouted Spinner Dolphins are there own variety, known as the Costa Rican form. They are 4 1/2 to 7 feet long.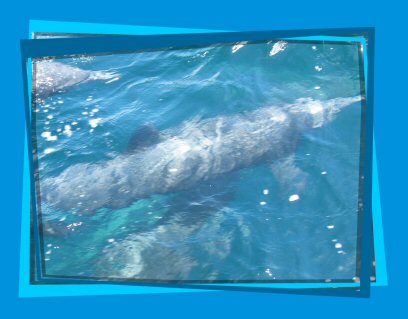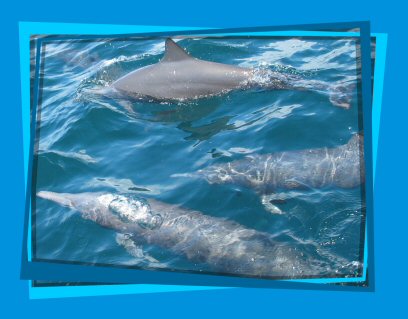 They are distinguished by their long slender beak, the erect dorsal fin and their high spinning leaps! We were treated to a real show...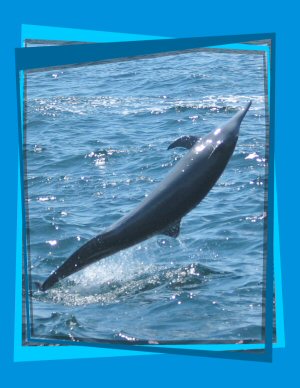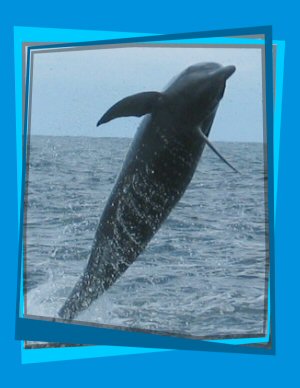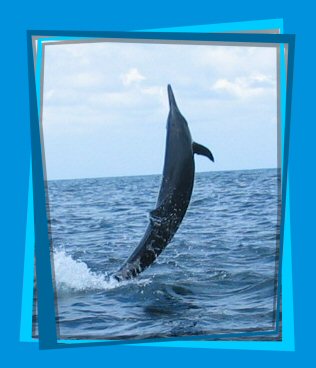 These photos show why these are called Spinner Dolphins! They can breach about 9 feet in the air. Then twist their body into sinuous curves or spins on their longitudinal axis up to 7 times in a single leap!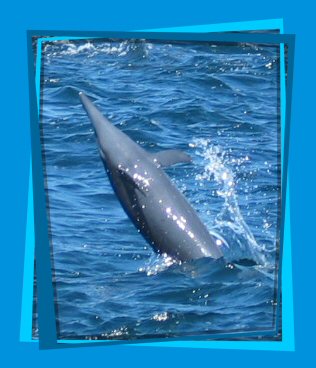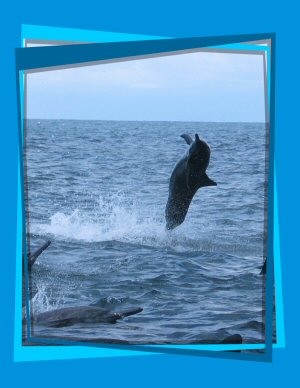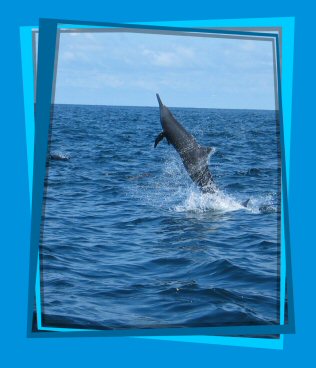 We encountered this large pod about an hour before lunch. Our boat followed them, and they followed us, they enjoyed this game of "tag". Since the Delfin Amor boats have been doing this for several years the Dolphins are accustomed to the sound of their boats. They know Delfin Amor is not a threat.
Our boat stopped for lunch, the Dolphins continued to circle us, what a thrill! After lunch we jumped in the water to have a swim with them. They weren't too close to us, so we got back in the boat and were told about buoy rides! This is where you hang on to a buoy while the boat pulls you along. Since the Dolphins are always moving this is the best way to swim with them! Wearing a snorkel mask, you can see Dolphins swimming infront and under the boat. You can hear them too. Its truly an amazing experience!
Here's Mark enjoying his buoy ride.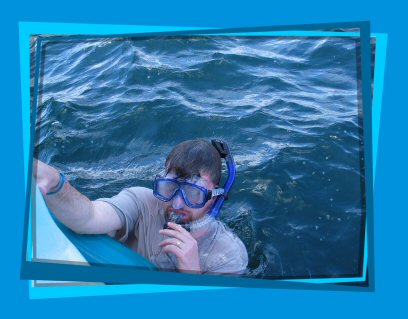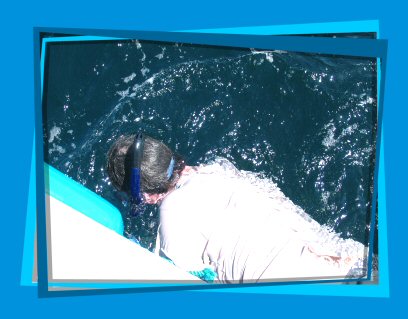 You have to hang on real tight as the boat is moving pretty fast. You don't want to let go, as you could get pulled into the boats propeller!
I had 2 buoy rides, but no pics of me in action. Mark said he was to concerned about me letting go of the buoy, to take pics of me. I'm not injured or dead, so I obviously get didn't let go.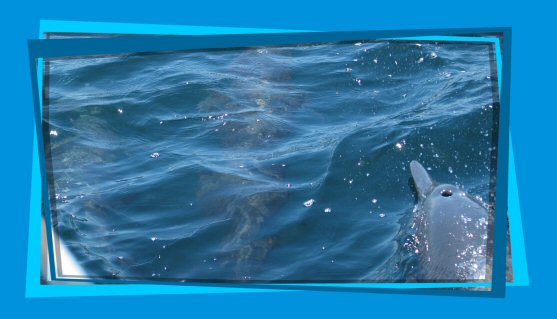 Here's a good photo of a Spinners blow hole. Plus 2 more Dolphins beneath the surface.
The white bit on the bottom left corner is the boat, showing how close they were getting to our boat. They really were having fun with us!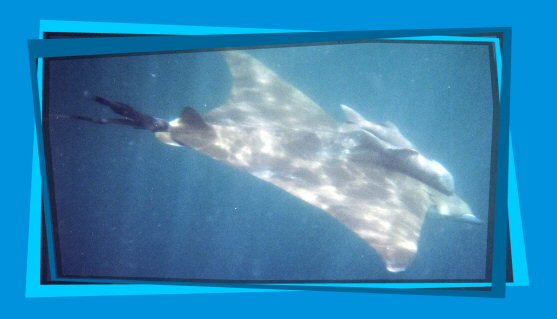 When Mark and I were both in the water we saw a Manta Ray! It was enormous, it swam right infront of us. Mark had our underwater camera ready and got this amazing photo of it! There's some sort of sucker fish stuck to it.
Manta Rays are 6 meters wide!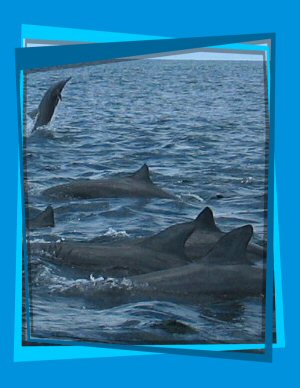 It was exhilarating to be with Dolphins in their natural habitat. Watching how much fun they have spinning kept us all cheering. They are beautiful free spirits.

Its heart breaking to hear how many are killed and injured yearly by man's fishing nets.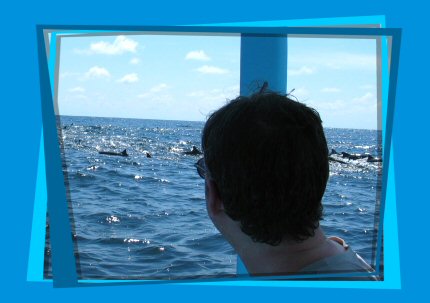 The Dolphins were with us for almost 4 hours!

It was our boat that actually had to leave them! Here's Mark saying bye!
It gets dark early in Costa Rica, so we needed to get back to the Lodge. Our ride back was about an hour and a half, so we were on land shortly after 4 pm. This is a day we will never forget!

Notes on our tour: We did not take sea sickness medication, but I did take 2 Advils just incase. Not being the best swimmer I wore a life jacket provided on the boat and felt very safe. There is a ladder to climb back in the boat. Our boat was small, but had a hard roof for relief from the sun. There were 11 people on our boat, including the 3 Delfin Amor staff. 2 of which were usually up top. The other being the driver. This meant we had lots of room to move from side to side to see the action. We had snacks of prepackaged cookies and bags of nacho chips. Fruit juice and water. Lunch was provided, ours was individual containers of brushetta to put on pieces of thick toasted bread, boiled eggs, and lots of fresh local fruit cut up, nothing beats fresh mango! Obviously we thoroughly enjoyed our experience. We know every trip out is unique and being wild mammals you never know what you'll see, we feel very fortunate we got to see SO many Spinner Dolphins. Whales were not seen on our trip, but some were seen on a previous tour, 2 days before our trip, but they didn't see the Spinners, so it all varies!
Tours to see the Dolphins and Whales operate daily, however as of Feb. 28, 2006 it is Illegal to swim with Dolphins in Costa Rica

More info. on this new law and the Eco-Lodge
Delfin Amor / Divine Dolphin
and their Marine Education Center -
Vida Marina Foundation
Our Dolphin encounter was with
wild FREE Dolphins!
Please educate yourself on captive Dolphin swims - Dolphins living in a small tank for human amusement. They are not the best environment for the Dolphins. Many die way before their time.
Dolphin Project
Humane Society Report on captive Dolphins
ABC's Primetime TV story on captive dolphins Oct. 2005

WAPA - World Society for the Protection of Animals
Bottlenose Dolphins in Captivity
Responsible Travel
This page has been viewed times since December 12, 2008