Sansa Airlines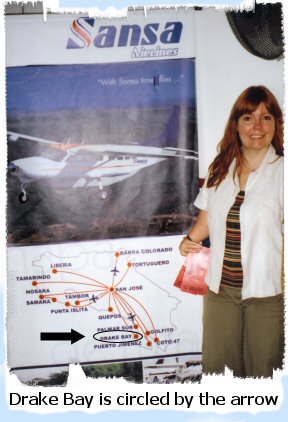 Sansa Airlines is for flights with in Costa Rica. The airport is located beside the large Juan Santamaria International Airport in Alajuela. Sansa has a very small airport. We were there an hour early and our flight was about 35 min. late. You soon learn everything in Costa Rica is on its own relaxed time. We were most concerned about the weight of our luggage, as there is a 25 pound pp. maximum. Peoples experiences really seem to vary with Sansa. On the Fodors travel talk there are stories of the airport guys weighing people and every little item they are carrying on, even water bottles! So we loaded up Mark's several zippered pant pockets with our heavier items like binoculars, in case only our bags got weighed and not us. Well our experience was very lax! The gentleman asked us how much we weighed when we checked in with our tickets. Then we gave another man our larger backpacks to put on a big scale, I then handed him my carry on napsac, he took it and then asked if it was a carry on, I said yes so he gave it back to me and didn't even care about weighing it! Didn't weigh Mark's carry on either and it had all our photo equipment which is heavy! So weight wasn't a huge issue for our particular flight. We did have 1 empty seat, maybe why.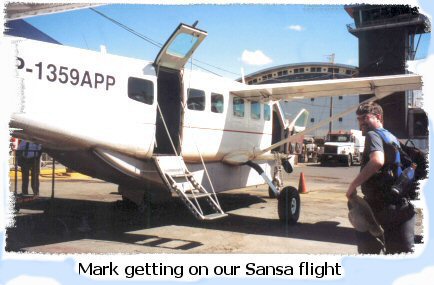 The
flight to Drake Bay is approx. 50 min. We also had other people remain on the flight to continue on to Puerto Jimenez. The plane holds approx. 12-14 people plus 2 pilots. There are 2 seats on one side and 1 seat on the opposite side. The aisle is obviously very narrow.
We both love flying so we thoroughly enjoyed the flight. It was smooth from take off to landing. Doing a short flight like this over a new country is a brilliant idea, you get to see how the land changes. We started off flying over a very populated area, over farm land, then over mountainous regions, not populated at all. Flying over the water was beautiful, then back around over large trees, and lush tropical greenery everywhere.
You fly low enough to get great photos.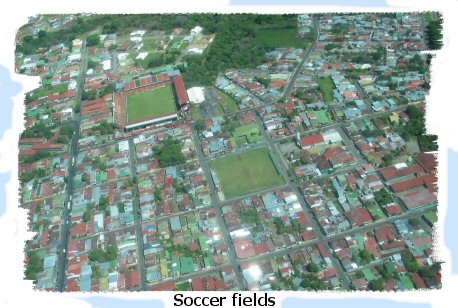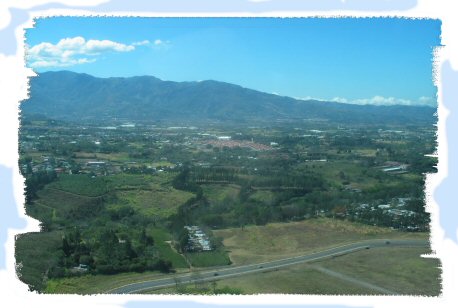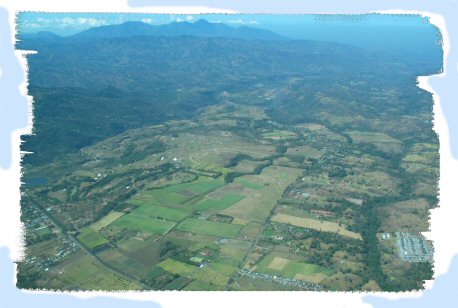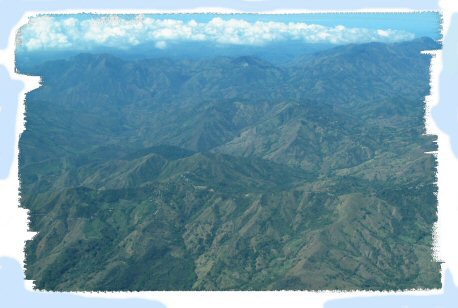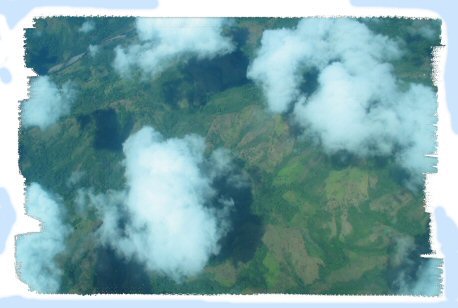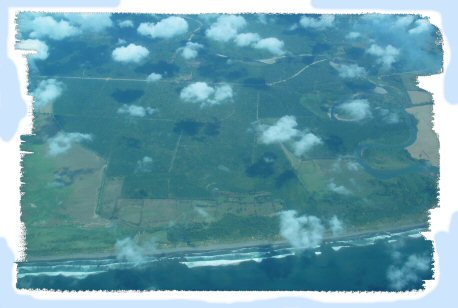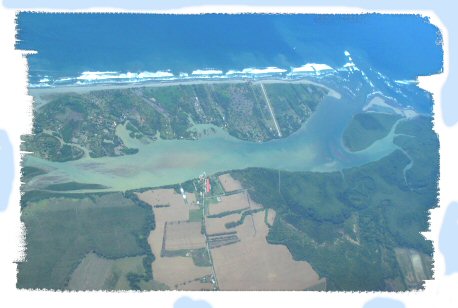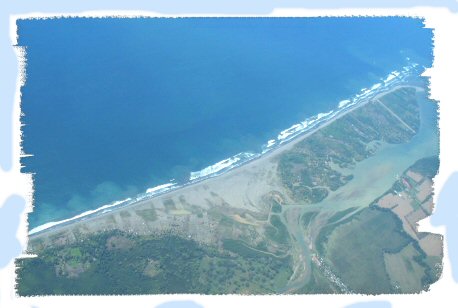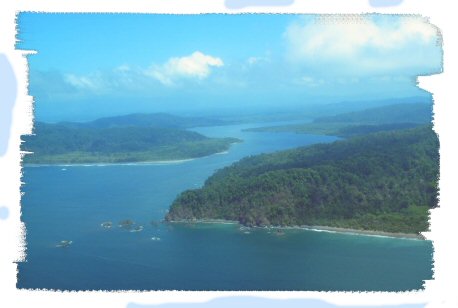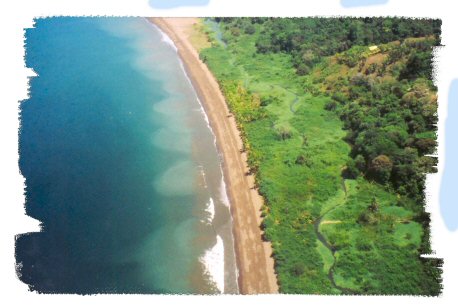 Arriving at Drake Bay airstrip is interesting! Its just a dirt runway in the middle of no where. We definitely felt like we were in an episode of Survivor! Here's their "airport", literally a shack, which also doubles as the house for the fellow working there!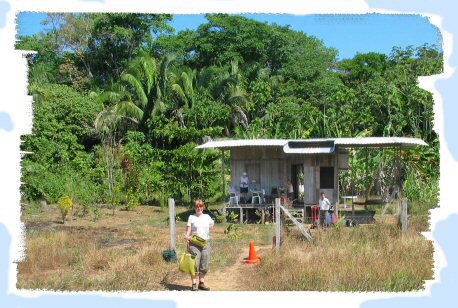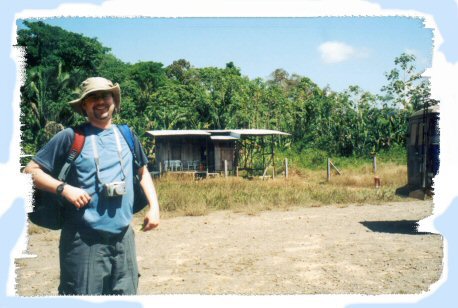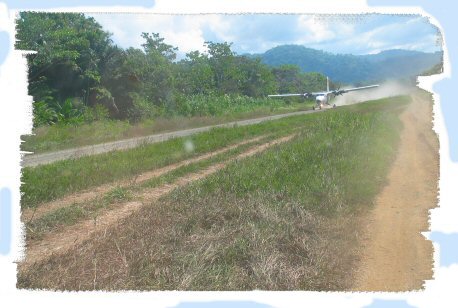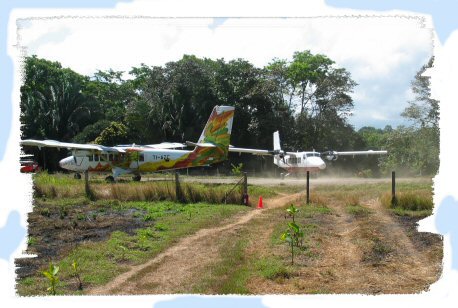 A plane arriving. Nature Air, (the coloured plane) also lands here. Their "airport" is the other side of the dirt runway.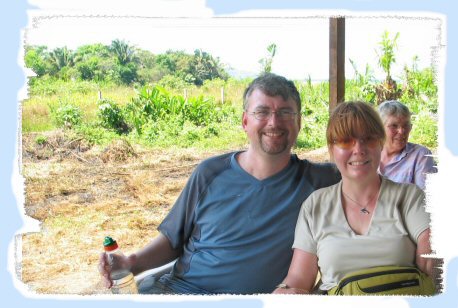 We were in Drake Bay for 4 nights. More about our stay there on our other pages.
In this photo we are sitting at the " terminal" ready to fly back to Alajuela. As mentioned
this is also the home of the man who looks at your ticket. You
can purchase a beverage
from a cooler of cold drinks. You can use his bathroom, but there was only a garbage bag for a door?! Literally a bag hanging, that you moved to be a door.
Our plane was almost an hour late, so don't plan anything too close to your arrival time in case its quite off schedule. We had a shuttle bus to catch upon our return to take us to the Arenal Volcano area. Luckily we still had plenty of time to catch it, especially since it was 30 min. late. Yes, everything is in "Tico Time" :)
Sansa official Website

(Home) (CR Links)
Email - Send Comments or Questions to Carla and Mark

All photos by Carla or Mark do not reproduce without permission.
Website design & graphics by Carla Copyright © 2004-2012 fluffytails.ca All Rights Reserved
This page has been viewed times since December 12, 2008