Tabacon Resort & Hot Springs


Tabacon is two things, a Hotel plus natural Hot Springs and Spa. The Tabacon Hot Springs are located just a short 5 min. walk from the Hotel on a lit path that runs parallel with the road. A shuttle van is always making trips back and forth if you choose not to walk.
These Hot Springs are a must experience while in the Arenal Volcano area. There are SO many pools, water falls , and lush tropical flora. The paths just seem to go on and on, its easy to find your own private retreat too!

We arrived about 5 pm on a Monday, stayed that night and Tuesday night and left Wed. at 1:30 pm (time of shuttle back to San Jose). Many tours are offered that pick you up at Tabacon. We choose the Volcano Hike for Tuesday morning till noon. It was excellent! (Info. about it on our Arenal Volcano page). We didn't have enough time to enjoy any of the Spa services, but they all sounded lovely!


Views of Tabacon Hot Springs below....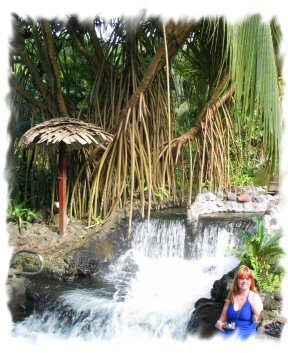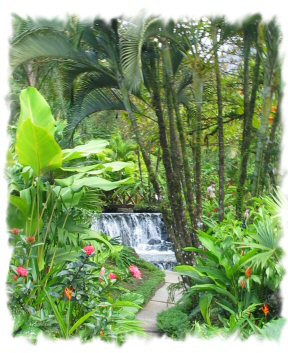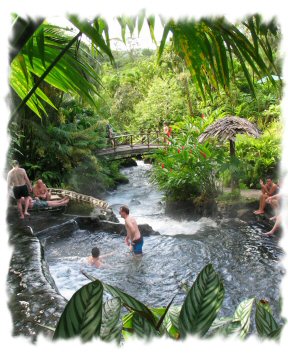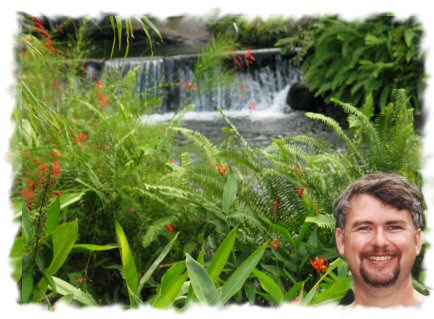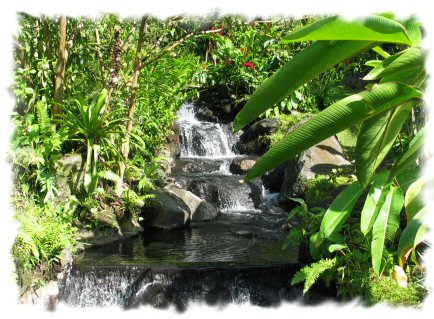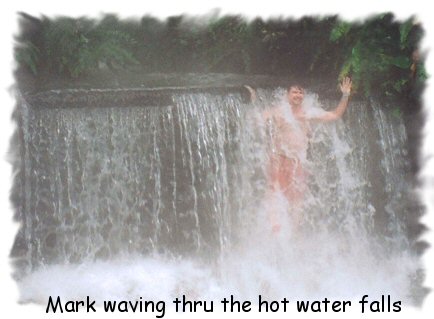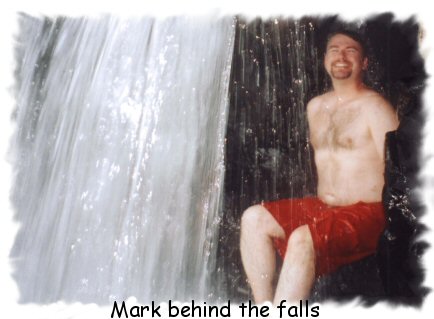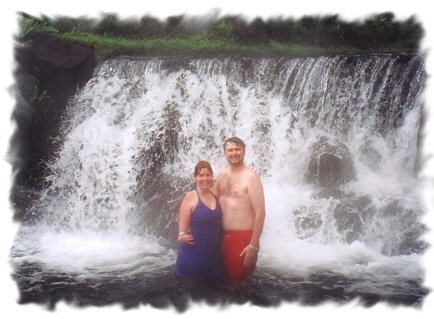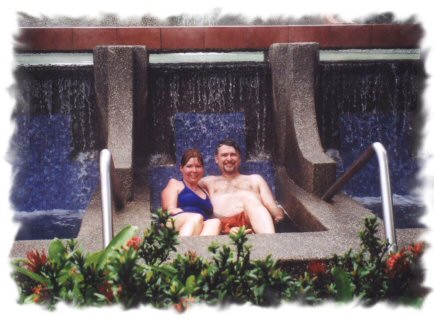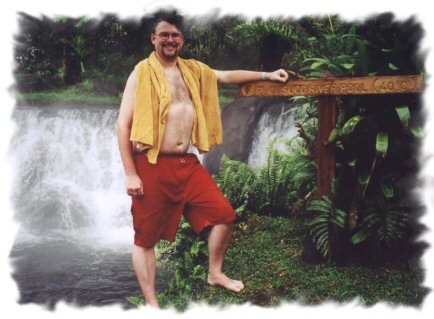 Each Hot Spring pool has a different temperature, Mark's standing by the 40 C sign.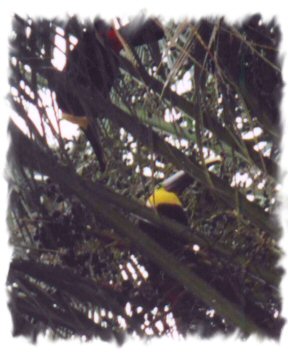 A real thrill was seeing Toucans fly over us while in the Hot Springs. We began trying to find where they'd flown to and spotted them above, in a tree. I was able to get a photo of these amazing birds. These are Chesnut-mandibled Toucans. This was just before we left Tabacon, so I was extremely pleased I had the opportunity to see wild Toucans before I left Costa Rica!
We also saw Scarlet Macaws while at Corcovado National Park, in the Osa Peninsula a few days earlier. Seeing such huge amazing birds as the Toucans and Macaws fly freely over our heads is a really magical experience.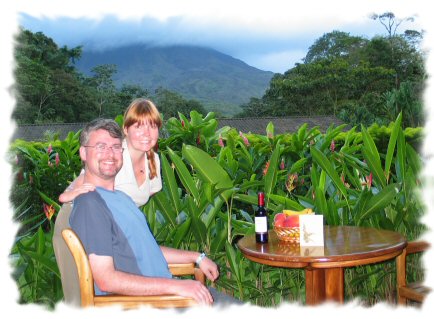 We had reserved a
Superior room, as I was told it included one-hour of free Internet access, (I needed to let my parents know I was alive). However when we got there they only had a Standard room. This was room 306 and it was great. King size bed and view of the Volcano from our own private patio (picture). Tabacon was all apologetic about the mix up (even though we didn't even care). There was a bottle of wine and fruit basket waiting for us in our room with a nice note.
The only thing is, they do NOT have internet access anywhere at the Resort - like they say on their website! So don't bother getting a "Superior" room, stick to the Standard unless you can splurge on the Suites.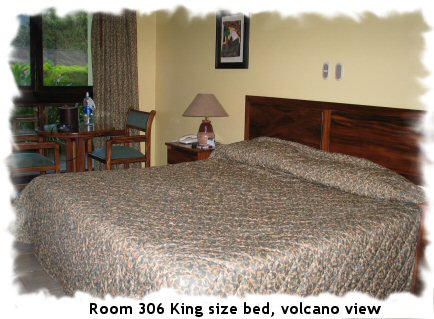 Upon our check in, they also told us our 2nd night they would give us a Suite for the price of the Superior room. Sounded fine to us, so the next day at noon they moved us to a Suite (they only have 6). We thought 306 was nice (pictured here), well 508 (below) is awesome! A living room and king size bed. Mark was thrilled with the electronic "create your own combination" safe in the room. As opposed to the key lock one in the other room. No key to worry about while you are in the Hot Springs!
Photos's from our Suite....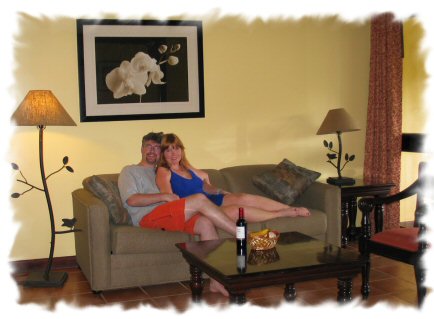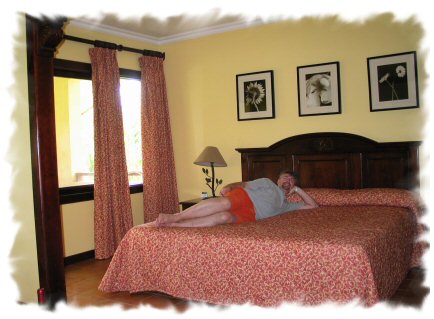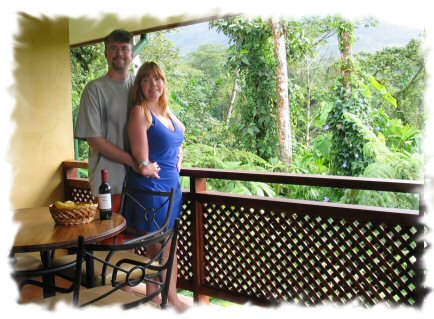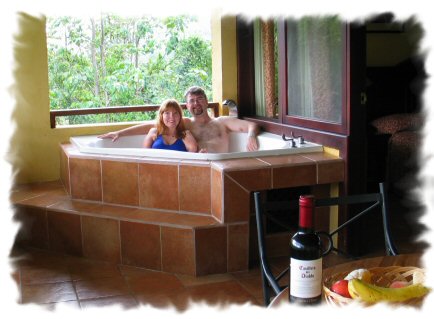 Us on the balcony enjoying our gorgeous surroundings. A Jacuzzi tub on a balcony, with views of Arenal Volcano. More
photos of our view of the Volcano on our Arenal
page. There were 2 doors leading to the balcony, one right off the bedroom and another off the living room leading to the table and chair set. It was just fabulous.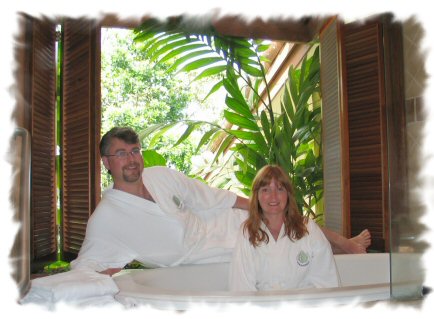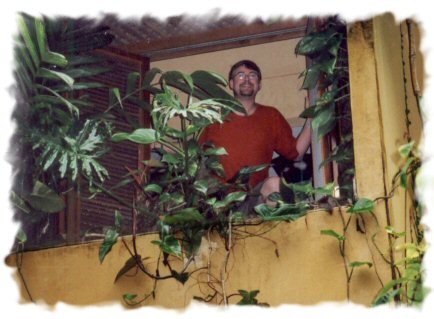 Plus a huge bathroom with large oval tub, and we had fluffy white robes! Mark looking out our bathroom balcony window.
We have a remote control on our digital camera - thus how we got all these photos of the 2 of us :)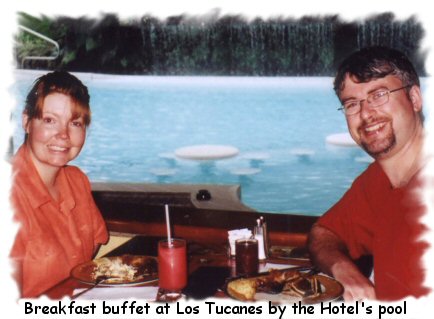 There is a breakfast buffet included in your room rate and it is fabulous!!! Its offered in the Hotel's restaurant Los Tucanes. Lots of cold items to choose from, such as lots of fresh fruit, yogurts, cereal, pastries, cold meats, cheeses, breads, toast, jams. Then hot foods, like fried yucca (amazing), pancakes, bacon, home fries, a meat dish, rice & beans (of course! :). And a few daily varying hot items. Plus a great egg/ omelet station where you can get your eggs done your way, with any fresh veggies, ham or cheese. I was excited about the fresh smoothies bar! You pick your the fruit you want (pineapple and mango my fav. choice) then you pick a fruit juice (blackberry good option!) And they mix it up in a blender with ice for you.
We also ate dinner here our first night at 9 pm (its open till 10) and really enjoyed it. Mark had a steak, potatoes & veggies ($10.56). I had cheese cannelloni in alfredo sauce ($8.12). Plus two strawberry daiquiris ($7.80).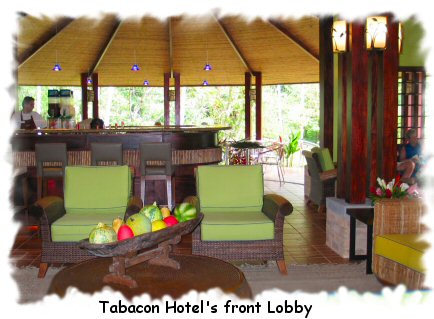 There is another restaurant called Ave de Paraiso, its located at the Hot Springs. They boast a dinner buffet, but its not very good! We had it our second night and were hugely disappointed, especially at the steep price - $19 a person! The options are very limited. Small salad bar, a few hot items like fish, chicken, rice and potatoes. A pasta bar, but they don't seem to know what pasta sauce is? Instead you're stuck with pureed fresh tomatoes, which is essentially tomato water which obviously doesn't stay on your pasta, instead a yucky mess below your pasta! There's limited desserts and fruit. Its just not worth the price, if it was $19 for 2 people maybe we wouldn't have been so disappointed. We were surprised, since we enjoyed the breakfast buffet on 2 mornings, so much at the other restaurant.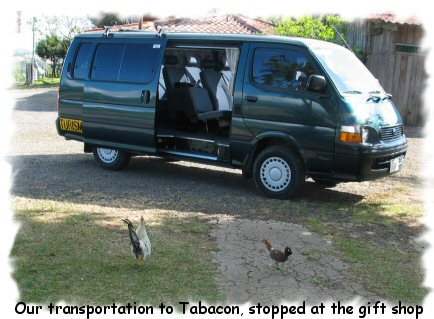 Tabacon can arrange a pick up from popular Alajuela /San Jose Hotels to their Resort if requested. Its a 3 hour drive on newly paved smooth roads. The roads are very curvy and twisty though. The 1:30 pm pick up at the Hampton Inn worked out perfectly for us. As we just arrived off the Sansa flight at noon. Mark and I were the only ones on the van, so it was like our own private transfer for just $25 each! The driver Freddie was SO sweet. He'd stop at pastures of cows (vakas - one of the few spanish words I learned :) so I could take photos of them. We also stopped at a little store with munchies and great souvenirs. The cost of the ride is added on to your bill at Tabacon, making it easy and one less separate payment to make. We returned back to Alajuela through the Tabacon arranged ride as well. But our way back was with an Interbus white larger van/bus with 6-8 more travelers.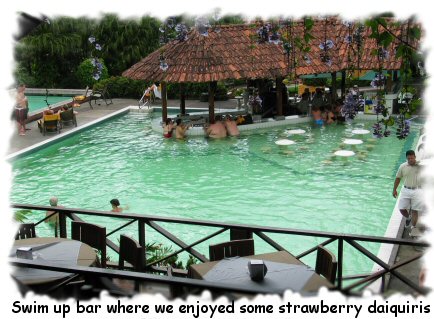 There are lots of other Hotels in the area. For us (not wanting to rent a car), the best option was staying at Tabacon. You can use the Hot Springs as often as you want, plus from 8 am till 10 am daily is only for Tabacon Hotel guests. If you are not staying at Tabacon the rate is $29 a person! Which is worth it, they are fabulous. But if you are at another Hotel factor in this extra $58 per couple, plus a money for a taxi ride there and back on top of your other Hotel bill. We used the Hot Springs 3 times, the night we arrived, the next afternoon and the morning before we left (at 1:30pm). So that's $174 worth! Obviously we would have only gone once if weren't staying there. H
aving the freedom to use them as often and when ever you want is awesome! You are given a wrist band with your room # that gets you in freely. Tabacon Hotel offers a free shuttle into La Fortuna, nearest town and back again running various hours. Guests at other hotels told us they had to pay $20 for a cab ride from their Hotel to town and back.
Note:
a postcard of Arenal Volcano could
not
be found at Tabacon's 2 gift shops, not very well stocked I guess! So if you see a nice one earlier in your travels buy it! Nor are there any postcards of the Hot Springs or Hotel??? Odd we thought. Definitely bring your camera.