Carla's Family
I am an only child. But I have lots of family. On Moms side there are lots of us. The Giesens are Dutch Catholic, need I say more. I have 14 Aunts & Uncles, 36 cousins that are basically all married or have significant others so throw another 36 on top that add almost 100 great grandchildren in there and it grows yearly. It makes for one heck of a family get together, which we have annually in the summer. Its great to have such a huge family and still be pretty close. Since the majority of us live in Ontario, Canada we can attend the reunion. However a few live far away, like Japan, New Zealand, and Holland. So when one of them can make the reunion, its a super event. There's also a few Weddings here and there, as another excuse to see each other. Although there aren't too many more of those, since everyone's pretty well married off.
Here we are. This isn't even all of us!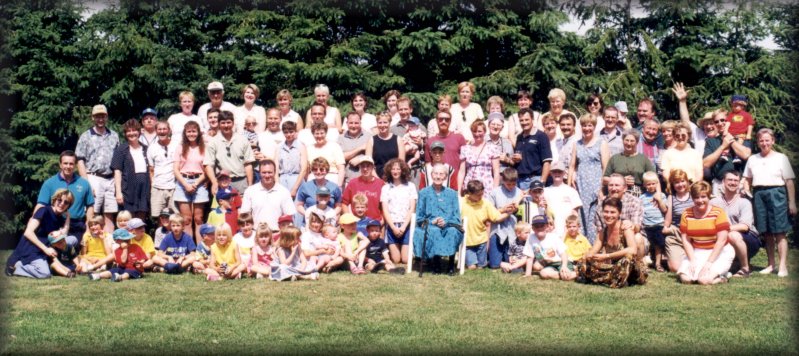 The ever growing GIESEN family, a good 90 or so of us in this photo!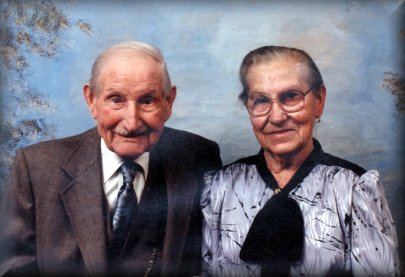 Head of this fine family were Oma and Opa (Dutch version of Grandma and Grandpa)
They taught us all so much, but mostly the importance of family, "no fight!"
Opa passed away in 1992 at the age of 94 and Oma passed away in 1999 at the age of 97. They both were very fortunate health wise, their entire long lives. Unlike 5 of their 8 children, my mom included, who have already passed from cancer.

---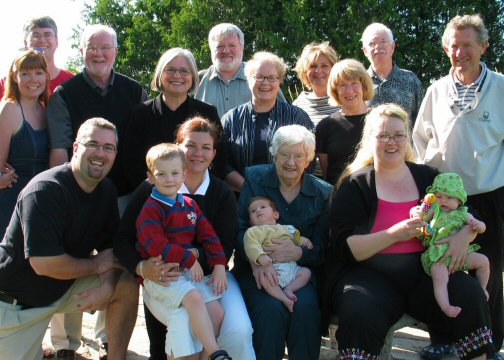 My Dad's side is smaller, he has one brother, and one sister, there are 6 of us kids, and my Grandma Trudy has 10 great grandchildren. Us 6 cousins, are all with in a few years of each other and have significant others now so it makes the get togethers fun.

Here's most of the family, Grandma, my Aunts, Uncles and cousins. .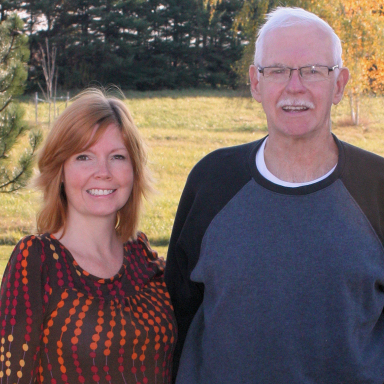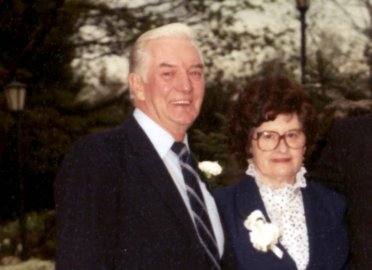 My Dad and I in 2009.

My Dad's parents, my Grandpa and Grandma in 1983.
My Grandpa passed
away in 1984.
Grandma in 2010.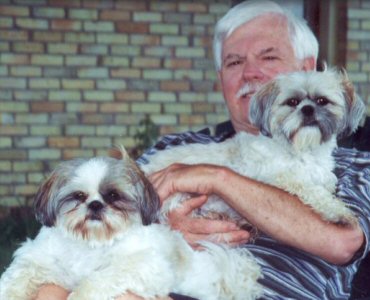 I'm very lucky that I get to see my Dad and step Mom Theresa, all the time. I'm really close to both of them. They've been married 23 years now.
Theresa isn't into having her face on the internet. I know, I know, she's crazy, what's better then this!
Dad and Theresa are big animal lovers. They live on a small hobby farm, the farm I grew up on. Its so nice to still go visit MY home!
There best loves are their 2 Shih Tzu's Emma & Phoebe, pictured here with Dad. The girls are 13 years old.

Our dogs have always been a very important part of our family, so they deserve a place on here too. Here's our furriends who have passed.
Brittany, Katie & Jessie, Buddy and Delly


E-mail Us
Copyright © 2001-2013 Fluffytails.ca All Rights Reserved
This page has been viewed times since December 12, 2008