I will paint anything and everything! I do have a degree in Visual Art from the University of Windsor, Ontario, Canada.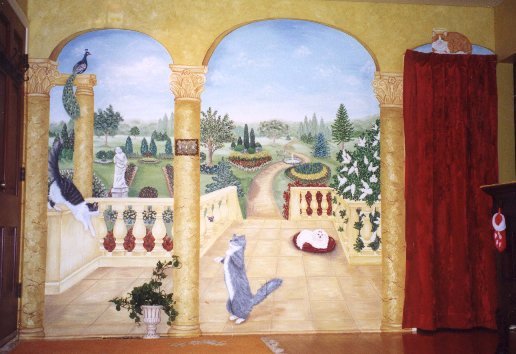 Mural I did for our living room. Our pets incorporated into the mural
Close up of our Shih Tzu Jazmyn of our Angel kitty Boomer
Close up of Iris & Fern getting a butterfly
Wild Animal painting to use as stationary (don't move it!) shower curtain. It covers half a sliding glass door

Notice hand painted leopard toilet seat as well.

Cose up to the right
Fish pond floor in the Wild Animal bathroom in our home. Our kitty Iris thinks the fish is real! :)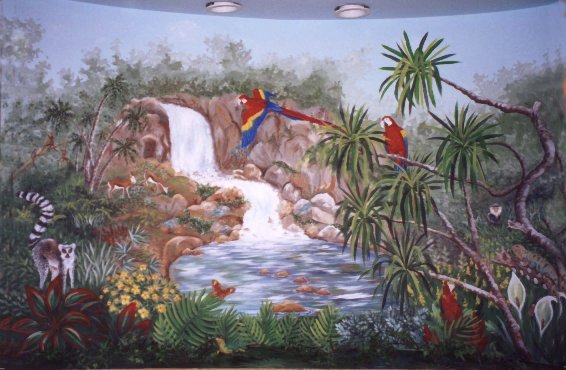 Panoramic Home Show Booth display
| | | |
| --- | --- | --- |
| | Close up of red eyed tree frog, iguana and parrots | |
Sleeping leopard in clients bathroom

Other wall of same bathroom
Randall Klien Design -

Furniture show room mural
Sign for above bar

Family's name is obviously Baker!
Funky hand painted dresser, for our retro themed recroom

Painting inspired by Pucci fabrics
More of my Artwork
Page 2 (pets), Page 3 (childrens rooms), Page 4 (misc.)

E-mail Us
Copyright © 2001-2013 Fluffytails.ca All Rights Reserved
This page has been viewed times since December 12, 2008