Boomer the Crazy Cat
Due to a very sudden blood clotting condition Thrombosis Boomer has passed away, October 25th, 2000.
For those of you that are new visitors, please do continue on down the page. There's lots of great info! Boomer has brought so many smiles to so many people/kitties. Because of this we will leave his site the way it is. We've received so many positive emails about the importance of Boomers FUS/FLUTD story. I'd still like many others to benefit from this also.
We've been told, we've even helped save kitty lives!! So please sit back and learn from a remarkable cat, that will never be forgotten. Love you always Boomy boy!
Memorial Page for Boomer located here.

---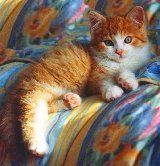 Hey there, I'm a funloving DSH cat. Born on September 14th 1993. That makes me 7 years old. I was adopted from a Humane Society in Ontario Canada when I was about 8 weeks old. Here I am as a kitten, doing the "cute thing". I love my home and my sister, she's a Shih Tzu, (dog)Jazmyn. We play a lot together. I'm even bigger then she is.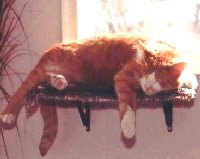 My parents are wonderful, they've put up ledges by windows in our house so I can bird watch. One is right by a bird feeder so I get lots of action there.
Or is that lots of sleep there!!!
You name it, I'll sleep on it, or in it!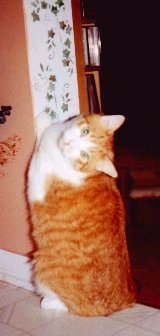 I enjoy climbing the wall, literally, my mom says I'm crazy, but its fun I just hang on and jump straight up.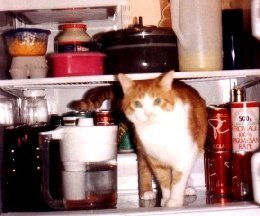 Mom says I'm crazy when I go in the fridge.
Yes, she has closed the door on me. She thinks it will stop me from going in, but I still do, after all I'm crazy.

---
*THIS IS VERY IMPORTANT KITTIES*
Do you know how common FUS is, or even WHAT it is? Also known as FLUTD Feline Lower Urinary Tract Disease (I will refer to it as FUS, since that's shorter).
MY STORY IT COULD SAVE A LIFE!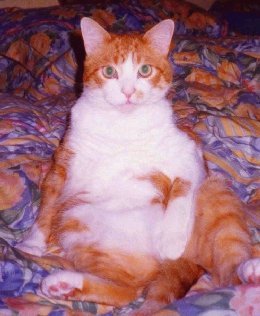 At the end of November 1997 I had a bit of a battle. It was a Monday and I couldn't jump up on the couch or bed without it really hurting, so my Mom would lift me up. She thought I jumped off the counter wrong and twisted my leg a bit. (Mom knows now to NEVER assume anything with animals!)
On Wednesday morning I had to pee real bad and I went on the kitchen floor right in front of Mom & Dad. I had never done this before so my Dad called the vet right away, and I went to see him that morning.
They took a urine sample to check for crystals, the results were back in 20 min. It was not good news. I had a lot of these crystals which were blocking my pee and it hurt a lot. The vet said that I had to have an anesthetic so the crystals could be flushed out and then put a catheter in me for a few days and hook me up to intervenus. I knew none of this was good because Mom was crying so much.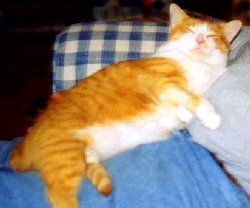 I was in the hospital for 3 1/2 days hooked up to all these things. My Mom came to see me every day and let me eat canned food out of her hand, I would only eat for Mom. On Saturday I was able to go home. It felt so good to get out of that small cage and those tubes out of me. For the next 2 days I was on Valium. For 10 days I had to have Amoxil, every 12 hours, an antibiotic. Here I am with Dad, when I got home, getting lots of love. My paw was shaved, for the IV.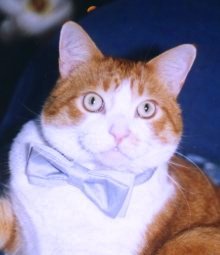 As mentioned above, what I have is called
FUS (Feline Urological Syndrome).
Its more common amongst us male cats. About 30% of us get it. Of course I'm "fixed", but that doesn't have anything to do with it. They say foods with high levels of magnesium are bad. I was eating Techni-Cal dry and Whiskas salmon canned, the SEAFOOD is BAD, now they tell me. It was my favourite too, I never cared much for the chicken and beef's. As with anything, a little is fine - I was just eating seafood every day - that's bad.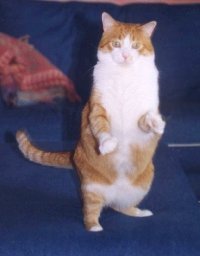 So now and always I have to eat Hill's Prescription Diet cd/s to keep my pH levels down. The dry is actually quite good and keeping me fat, (14 1/2 Pounds!) I'm even enjoying the canned c/d finally. I have to drink lots of fresh water every day as well, its especially important for us FUS cats.
As you can see I'm ready to fight now, so NOTHING better mess with me!
It's really serious if a cat gets completely blocked. We can DIE with in 2 days.

So tell your owners the Symptoms of FUS are:
Excessive licking of the genital area.
Straining to pee and urinating frequently but with little results. (Since our litter boxes are often "out of view", this one is difficult for people to know).
Blood in urine.
Urinating outside of litter box.
Unable to jump up on couch, as if back leg is sore. (This one isn't in any cat care manual but it was the only really visible thing I showed Mom & Dad to say I wasn't well. Maybe this one can help someone else get to the vet's even sooner).
I also DIDN'T purr, too uncomfortable. And I'm a purring machine!
Plus being picked up was not favourable, as it hurt my tummy.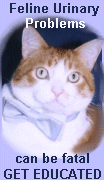 Thanks to everyone for sharing your FUS/FLUTD stories with me. Keep them coming.
Feel free to put this graphic on your site if you want to link back to my FUS story at http://www.fluffytails.ca/boomer.asp
*NOTE* It had been 3 years since Boomer first had FUS. His passing away was due to a blood clotting condition, thrombosis. NOT caused by FUS. However FUS can indeed be fatal. So please know the signs.
For more medical explanations of FUS/FLUTD & Thrombosis. Please refer to our links page
---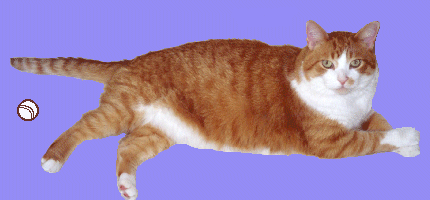 Interested in emailing regarding this site? You can do so here!
---

Many of you are linked to our old site at geocities. If you'd be so kind as to change your links for Boomer to http://www.fluffytails.ca/boomer.asp
Much appreciated!


Please visit Iris & Fern! our 2 new kitties. And say hi to Jazmyn too!

E-mail Us
Copyright © 2001-2013 Fluffytails.ca All Rights Reserved
{Seasons} {Crazy?} {Awards} {Winners} {Animal Welfare} {Links & Banners} {Rings}