What is better then traveling? I wish we could do it all the time! But of course we'd miss Jaz, Iris & Fern too much. And I guess there's that annoying job thing! We do try to get away when we can, even if it is just a few days of camping in the summer here in Ontario, Canada. We are fortunate to have excellent Provincial and National parks.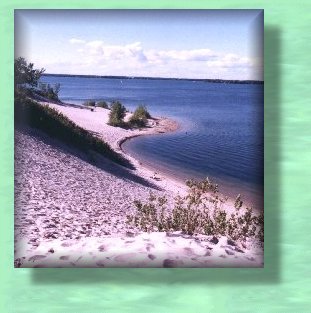 Mark and I are just tenters, but its fun. We try to go to a different Ontario Provincial Park every summer.

Its a fabulous way to see many areas of Ontario, which is a huge Province. Its not uncommon for us to drive 5-8 hours just one way to get to a park.

This is Sandbanks Provincial Park. Its a beautiful location with great beaches with huge sand dunes.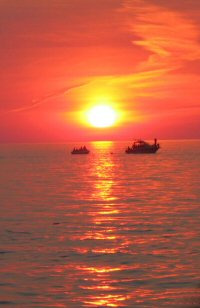 Pinery Provincial Park, by Grand Bend
and Port Franks Beach offers exceptional
Lake Huron sunsets.
If the Pinery is booked try,
The Dunes Oakridge Park Campground.
Only 10 min. from the Pinery and right by
Port Franks beach which is our choice over
touristy Grand Bend.
This park has 3 pools and some secluded
camping sites in the back.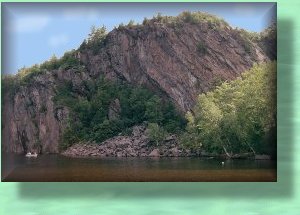 Bon Echo Provincial Park is located near
Kaladar Ontario, it's very nice.


High rock as pictured here.

Our favourite camping experience so far is Bruce Peninsula National Park in Tobermory.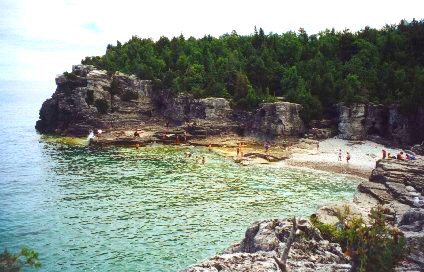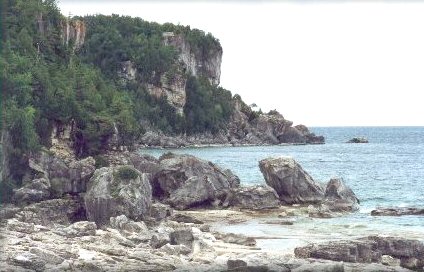 The camping sites are along Cyprus Lake. And the park is situated along the Georgian Bay. It has a cool grotto area for swimming.







There's lots of neat rock and water everywhere. Its very picturesque. Southern Ontario is quite flat, so this is a great escape for us.

The park has cute red tailed squirrels that are very curious.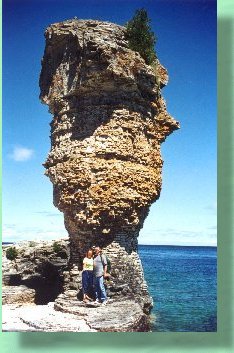 While camping at Bruce Peninsula National Park take the short boat ride from Tobermory to Flowerpot Island. Worth a the trip, nice hiking around the island too.

The Island is named after these "flower pot" shaped rocks. Which were created by the water, which at one time covered the rock, eroding the soft dolomite rock away. Leaving these unique shapes.
Other highlights of Tobermory are the sunken shipwrecks. Its a great place for scuba diving.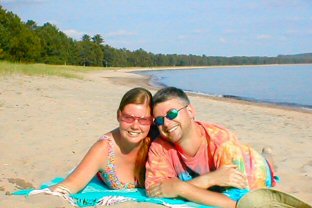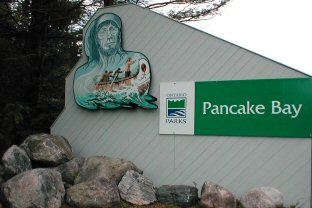 We've also camped at Pancake Bay Provincial Park, North of Sault Ste. Marie.

Our site was across from the beach, which was really great! And as you can see we had the lake almost all to ourselves!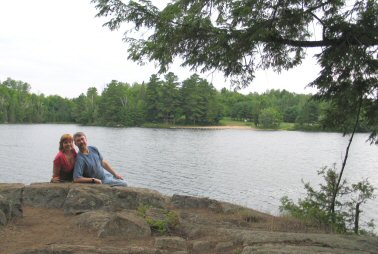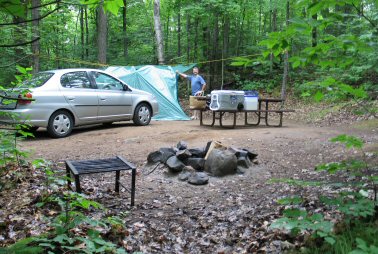 Silent Lake Provincial Park near Bancroft is also a great spot. Especially for rock hounding. More of our info. & photos here.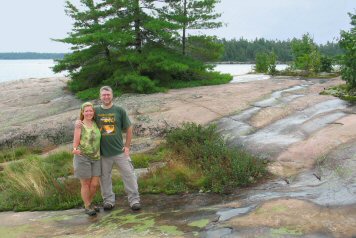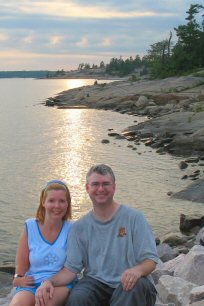 Camping 2006 brought us to Killbear Provincial Park, just North of Parry Sound.
Lots of beautiful rock, with views of
little islands. Several sandy beaches with camping spots right close to the beaches.
Nice hiking trails.
Deer you can get pretty close to, chipmunks that eat from your hand - bring peanuts!
And yes bear too! More of our photos here.

Now on to farther then Ontario travel!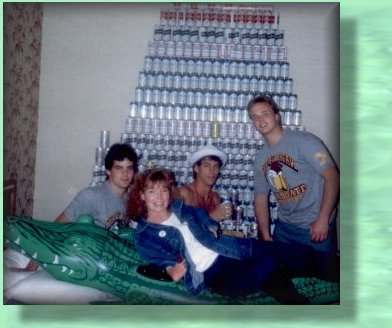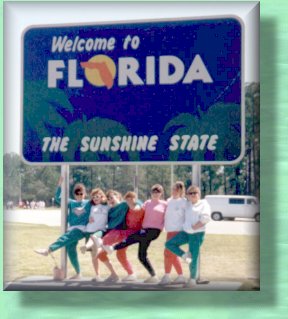 Going WAY back! My first out of Province trip was in 1987. Daytona, Florida and Walt Disney World in Orlando. Was this ever a bash! I was 17, a crazy chick on a bus loaded with other teenagers from my highschool, which included my best friends Kim, Monica, Lynn, Connie and Karen.
Yes "spring break" is everything you think it is. Party, party, party! Parents be very afraid! Is there more to Florida then a wall of beer, guys and an inflatable gator? For a first trip, it was very successful on the fun scale!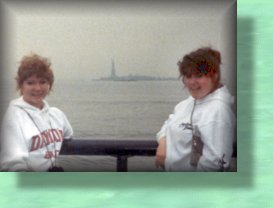 In grade 12, I was off to New York with my Drama and Art class. We saw 3 Broadway shows, the most memorable being, Big River. Of course we enjoyed several museums and art galleries too. I really liked the "Big Apple", and there really are yellow cabs everywhere!
This is as close to the Statue of Liberty as I got. That's me and my good friend Teresa.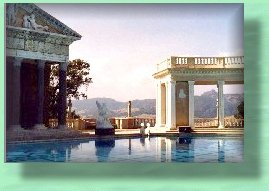 Next trip was to California in 1989, after my 1st year in University. Specifically Bakersfield where we stayed with my roommate Shelly's grandparents for a few days. There was a nice beach near by. From there we took a drive up to Hearst Castle (pictured here). It is a very neat place! We stopped in wonderful little towns like Carmel, and Pismo Beach.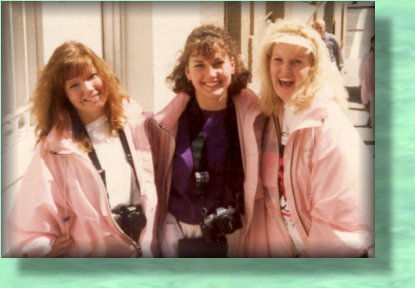 From there we boarded a Greyhound bus to take us up to Vancouver. With a few hours stop in San Francisco for some sight seeing and a chance to ride the cable car.
Here I am with friends Karen and Shelly, we are in San Francisco. I think we are proof San Fransico is relatively safe. I mean if we don't scream stupid tourist, I don't know who does. Matching girlie pink University coats, camera's strung around our neck. And we are kinda cute :) But we survived our stop over and boarded the Greyhound.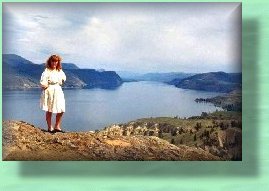 British Columbia our destination, is just breath taking, as you can see by this picture. We spent some time in Kamloops and visited the Okanogan Valley. I went back out West a few years later where I went to Vancouver Island, specifically Nanimo and Parksville. I also spent some time in Alberta, in Calgary, and Edmonton, the West Edmonton Mall is fabulous, I got to pat a Dolphin there! The Dinosaur museum in Drumheller, was closed the day we drove out, very upsetting. British Columbia and Alberta are beautiful Provinces and have a lot to offer, as does all of Canada.

My first trip with Mark was to Cancun, Mexico, in 1990. We had a fabulous time, we did all the extra excursions which were great. We took a 3 hour bus trip to Chichen Itza. The bus trip alone was interesting and very bumpy. It gave us an opportunity to see how the real people lived, away from the "tourist beaches". The enormous pyramid Kukulcan, a huge solar clock, (pictured here) and Mayan ruins were incredible. Oh yes indeed we did make it to the top of those stairs! Unfortunately tourist can no longer climb these - too unsafe.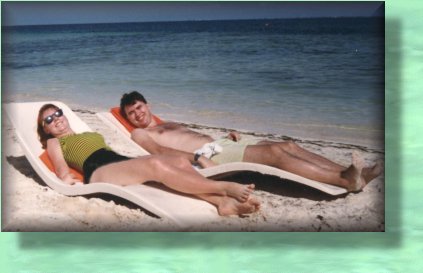 We took a boat to another island to go snorkeling.
I kept inhaling the salt water because I thought I
was drowning, but the few fish I did see were beautiful.
We did our share of relaxing in the sun, like in this photo!
And shopping Mexican style, which means bartering for everything.
You gotta love the Gecko's that are everywhere
and the Iguanas running into the bushes, to avoid people.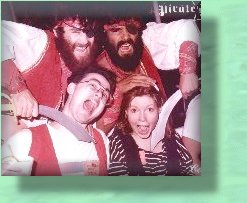 The night life was super at Senor Frogs and Carlos and Charlie's.
One night was a "Pirate Party", us in photo with pirates. We went on a boat to another island. It was all you could drink.
I won a limbo contest where they poured tequila in your mouth each time you went under, yuk, but I still kept limboing away. Cancun was a fun spot.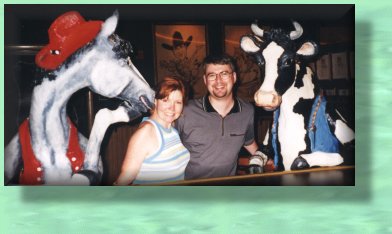 I've also been to Nashville twice. My cousin Melani lives there. Its about a 12 hour drive for us. I've stayed at the Opryland Hotel, this place is huge! It was around Christmas time and was the place ever beautiful, I've never seen so many lights. This is a photo of Mark & I at the Wild Horse Saloon, we didn't strut our stuff for the TV camera's though. You can't help but love country music when you're in Nashville.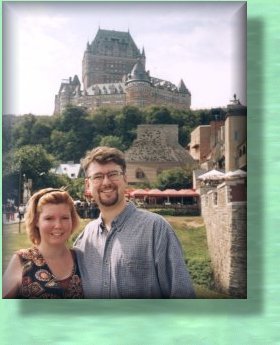 Here we are in Quebec City, Quebec, Canada. It's very beautiful. Its about the closest to Europe, Canada gets.
The building behind us is the Chateau Frontinac.
A fully restored hotel. Quebec is a French speaking Province.
Its full of great gift shops with the neatest items.

I've made pages for these travel destinations...

Europe , Cape Cod , Costa Rica , Vegas
click on each place for photos
Silent Lake Provincial Park in Bancroft Ontario
Killbear Provincial Park in Nobel Ontario
MacGregor Point Provincial Park in Port Elgin Ontario
Blue Mountain Resort in Collingwood Ontario
Cheltenham Badlands in Cheltenham Ontario - MUST see!
Sifton Bog, Port Franks & Goderich
Fanshawe Pinery Village in London Ontario

Ontario Canada Provincial Campground Directory

E-mail Us
Copyright © 2001-2013 Fluffytails.ca All Rights Reserved
This page has been viewed times since December 12, 2008