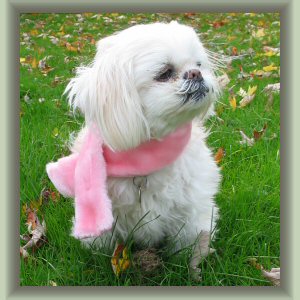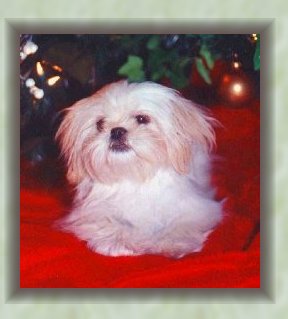 I was born
July 2, 1994.
I was adopted from a Humane Society
in
Ontario Canada
, at Christmas in 1994. I was only six months old then. My Mom,
Carla
worked there at the time, she was
really
excited when I came in. I guess us little young dogs are harder to come by at shelters. She took me home and I'm still here 16 years! That's the first photo Mom ever took of me, under the Christmas tree. I'm the best present ever!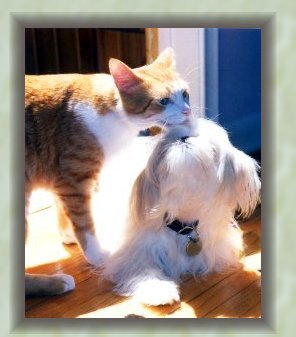 It took a bit for me to get used to my new home because my first owners weren't very nice to me, so I had to be sure I could trust my new parents. They made me feel very loved right away.
I had a kitty brother, named BOOMER. He helped me feel very safe in my new home. Doesn't he look like a great friend! But on October 25th, 2000 Boomer had to go to heaven after we were BEST FURRIENDS for 7 years. We were all so sad. Mom cried every day for months.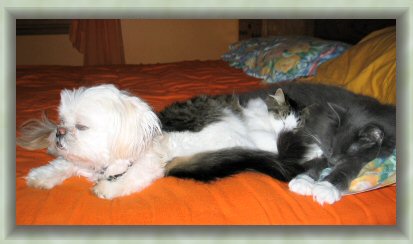 In the spring of 2001 it was time for more kitty love in our house. So along came Iris & Fern, two fun kitty sisters. Yes its a family of all girls now, poor Dad, he's out numbered. The kitties were born here, from a foster momma cat. So they loved me right away and I them.

Here's the three of us, snoozing together on the bed.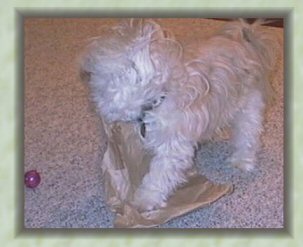 I don't enjoy the typical "dog toys" that stores sell.
But I sure love things I can rip up. Like paper towels,
tissue paper from gifts and paper bags. Now these are toys!
I shake my head so much you can't tell what end is which!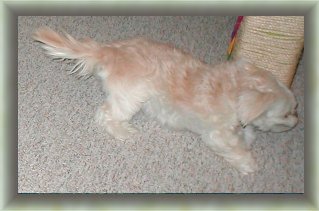 I like to run super fast all over, almost in figure 8 shapes,
it feels so good. I love to run in the grass. But when its
snowy or rainy I run inside where there is carpet, to get
my grip. Mommy calls me crazy.

Here I am going real fast.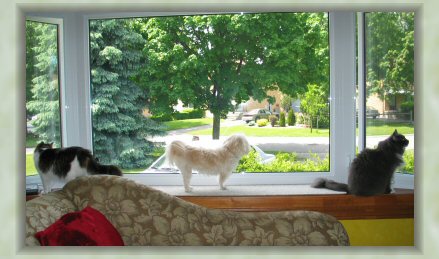 My favourite spot is IN the bay window. What an awesome spot! From here I get a perfect view of the front street. When kids run by I just have to bark, and I sure love to say hello to the mailman.

As you can see Iris & Fern enjoy the bay window too. That's okay, its plenty big for us all to share.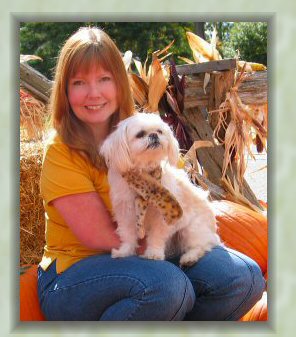 Mom is always
cutting my hair
to keep it out of my eyes, in fact she cuts all my hair for me. I guess us fluffy doggies are a lot of work. Mom cuts Daddy's hair too, so I guess I can trust her. Does Dad?

She gives me baths, blow dries me and puts silly bows in my hair which aren't my favourite things, but I put up with it all, sigh, at least I always get a good treat after.

Here I am in one of my fashionable scarfs with Mom.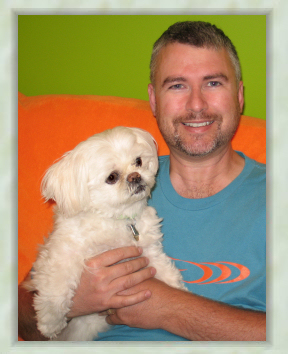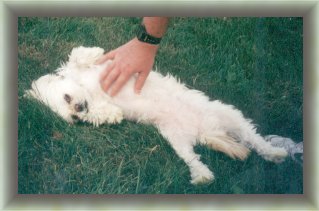 I'm usually Mommy's little girl, but I sure love my Daddy too.

He really takes the time to play with me and gives me lots of love. My favourite thing is having my belly rubbed. He does it just right!
I sneak in-between Mom and Dad all the time. I don't want to be left out.
I get to sleep in the big bed with them every night too, it sure is cozy.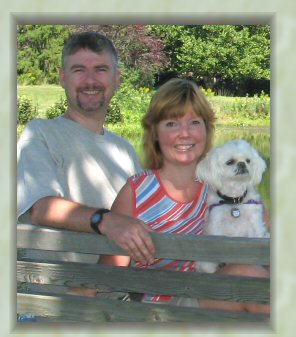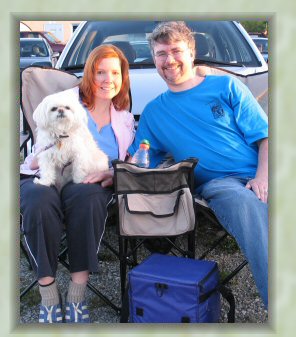 I'm very petite, I only weigh 11 pounds. I'm just a fluffy little cuddle bug, who needs lots of attention, and gets it.


I love my backyard, it is really big. There's lots of squirrels and rabbits to chase too. I love walks.

Here I am at the Drive-in and our favourite park with Mom and Dad.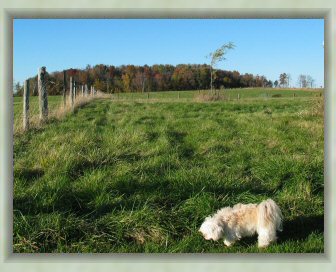 Here I am at my grandparents farm. I love it there!


Every time Mom and Dad go for a visit, I get to go too! There's so much to sniff and investigate. Plus lots of room to run and play, and 3 kitties to chase!
Sometimes I stay overnight at the farm when Mom and Dad go away. Once I even stayed for 2 weeks! While Mom and Dad were on vacation. Its a good thing my grandparents love me so much, and I have so much fun there!




There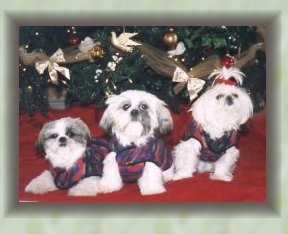 are two Shih Tzu's at the farm! Emma and Phoebe are 12 years old. Aren't they cute too! We all get along okay. I'm kinda bossy at THEIR home, I have a few issues. But they are very nice to me and even let me share the big bed with them.
Here we are at Christmas a couple years ago, in our matching coats from Santa.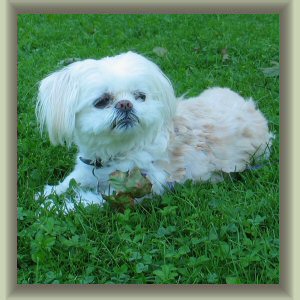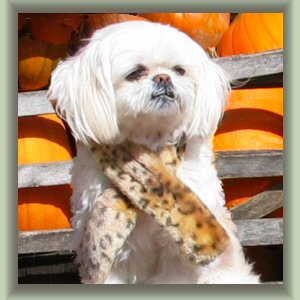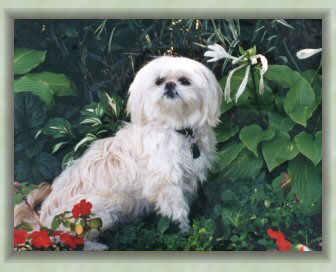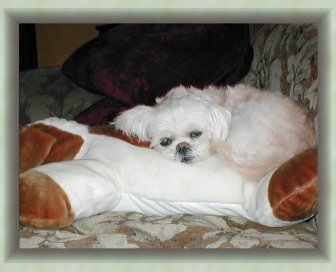 When I was 9 years old I had
six
teeth
pulled! I went to the vet's for a scheduled
teeth cleaning
and the vet thought it was best to extract the really bad teeth, so they wouldn't cause infections and make me sick.
Well my teeth didn't get much better as 3 years later, when I was 12, they took out a bunch more! And
another teeth cleaning
. I can still eat my food just fine, so my remaining teeth are doing their job. Now at 16 years old, my teeth have lots of plaque AGAIN, but mom doesn't want to risk the complications of going under. Fine by me!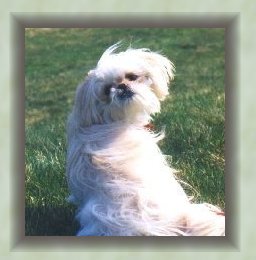 I've been
sprayed by a
skunk
twice! It's not pretty! Being at the perfect skunk butt height, I sure got it good the first time, my face was soaked. Dad called the emergency vet and they told him very good info. Make sure you give
food and water
immediately. You know how bad it smells, well you can imagine how horrible it
tastes!
I ate and drank right away. Dad picked up "Skunk off" at the vets and they gave him a saline solution to flush my eyes out. I smelled okay in a couple days. The 2nd time it happened (about 2 years later - 2004), wasn't as bad. Since now I know what a skunk is!!! I tried to get away as
fast
as I could this time.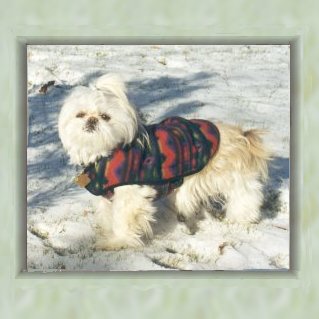 Living in Canada, means very
cold winters
.
Sometimes I blend right into the snow!

Mom likes to put coats on me to keep warm. I certainly don't stay outside too long in the cold though!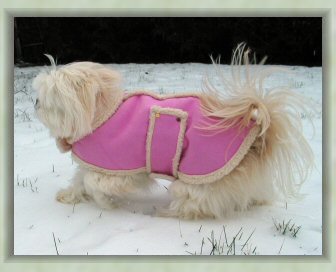 I do like this pink coat.

The faux sheep trim matches my own fur beautifully.
Plus it is nice and comfy and warm too.






Look! I got a


party dress
for the
2009
Holidays!



The Santa suit




is an old




favourite.







Here I am in a poncho.

These photos
were taken
Oct. 2005.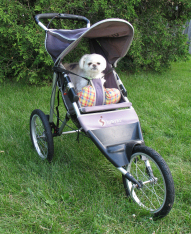 Oh boy, a stroller! Yes, I actually enjoy it.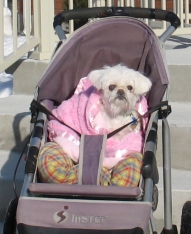 Hey, when you are an elderly gal such as myself,
you take a free ride when you can!

Although there are pet strollers, they are quite expensive.
This is a "child's jogging stroller", that mom got at a yard sale
for $18! I fit in it nicely and have a comfy pillow to lay on.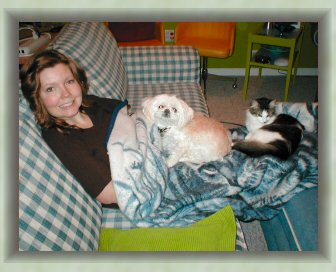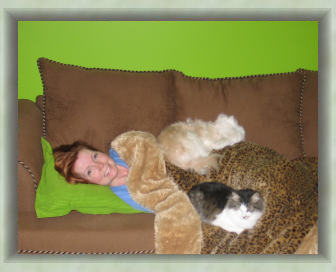 Hope you enjoyed reading
all about me. Its been a long day, and I'm tired.
I found a great place
to nap - Mom is very comfy.
Looks like that kitty Iris
knows this too!


---
Update - Jaz passed away Oct. 25th, 2010, she was 16 years old.
We adored her more then anything!

So many heart breaking changes in her final year. Lost her sight in 1 eye for her last year. Then
the 2nd eye went blind about 6 months after the 1st. She was almost deaf and was experiencing signs of
doggie dementia, which made her walk in circles at times, be confused and the hardest to accept was not
recognizing us anymore.

Jaz we miss you so much, I hope you are happy and know what a special girl you were.
I cry at everything, as it all reminds me of you! We were so lucky to have you!
More photos of Jaz here

---
---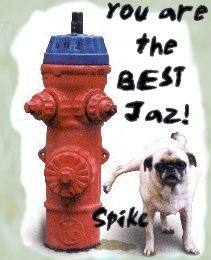 SPIKE! What are you doing? Don't leave your mark there!
SIGN my Guest Book or VIEW Guest Book
We appreciate all comments and answer email!
Please email us
Put something relevant in the subject line, like Jazmyn!
With all this Spam stuff it might get deleted otherwise!

Want to link to MY site, please do so with



(New) (Jazmyn's Awards) (Jazmyn's links)
(Christmas page 1) (Christmas page 2)



E-mail Us
Copyright © 2001-2013 Fluffytails.ca All Rights Reserved
This page has been viewed times since December 12, 2008