Our Wedding Photos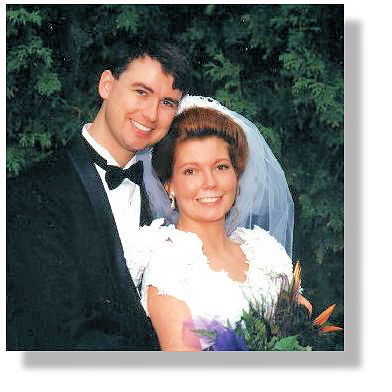 We, Mark and Carla were married on Saturday, September 18, 1993. We had a beautiful church service, then pictures in the park, on to a dinner and reception with all the festivities. Of course we are biased, but we think we had a fabulous Wedding. Loads of fun with about 150 of our closest friends and relatives. Our Wedding Party did a great job to help make it a special day. The girls sang a song with funny lyrics about us, then they put on a surprise slide show with old and interesting photos of us, that had everyone laughing. The music played all night and everyone had a great time dancing. More food was brought out before the night was over. It was a wonderful day, everything we hoped it would be!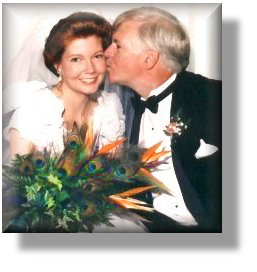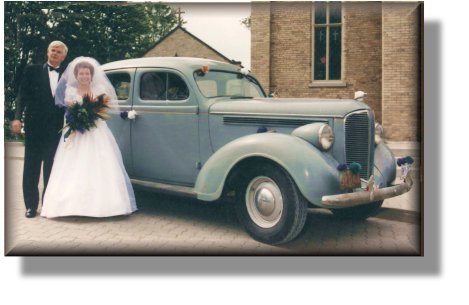 Me and my Dad.
Arriving at the church in a 1938 car.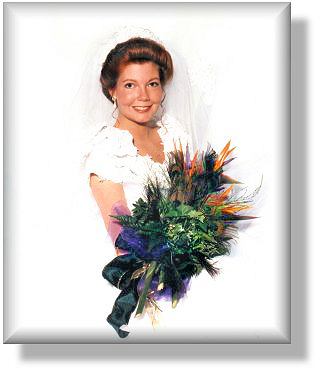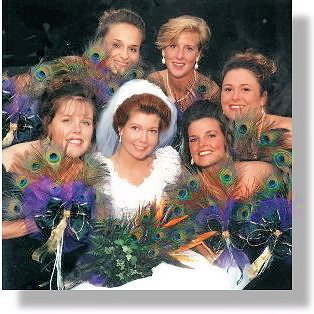 Here's my best friends, our bridesmaids. Starting at the left side is Monica, going up is Karen, Kelly, Connie and Kim. My Bouquet was my own idea of peacock feathers and Birds of Paradise flowers.The girls had these awesome peacock feather fans. I came up with the idea for our bouquets. At the time of our Wedding, 3 girls were 23, the other 3 were 24.

More about us girls on my friends page. Yes its been 18 years since our Wedding and we are STILL friends. That's been 38 years and we're only 42. I'd say that's pretty amazing.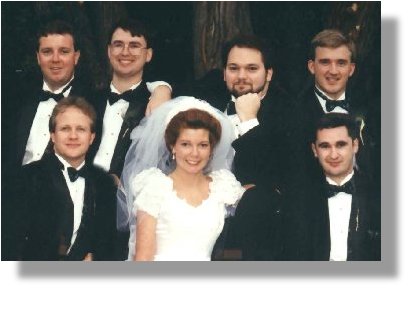 Here's the Men!
From top left, we have Mark's roommate of 3 years Pete, groom Mark, best man Sean (who is single & looking for a lady!! Any takers?!) Then is our friend John.
Bottom row left is Mark's cousin John, bride Carla, and Mark's brother John. Yes there were 3 John's!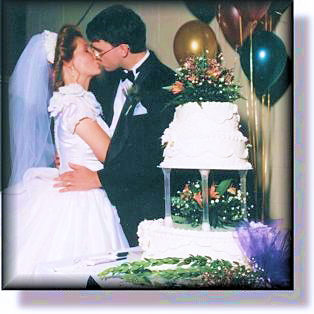 Pretty cake with fresh flowers.
---
For our 10th Anniversary we set up the tripod and digital camera and snapped a few photos of ourselves infront of the church we were married in. I wish digital cameras were around when we got married! :)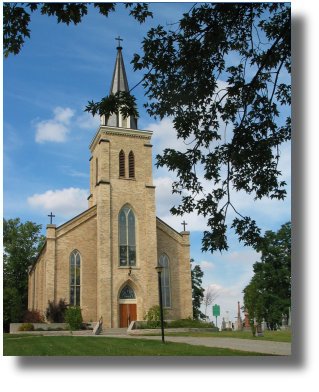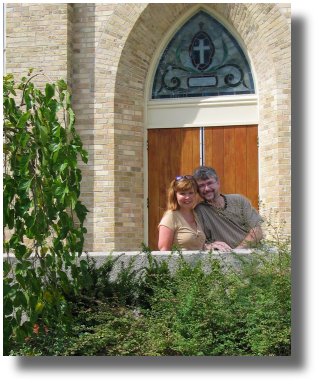 St. Patrick's Church was built in 1858. At the time of this photo, it is 145 years old.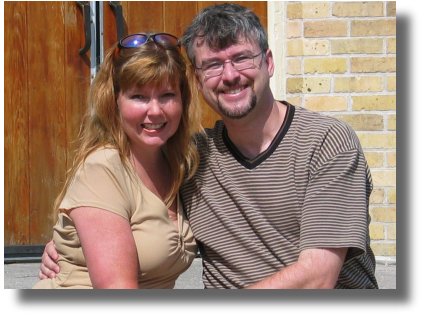 A few changes in 10 years,
some extra pounds, gray hair,
bangs for me, a goatee for Mark.

All and all, I think we are aging quite gracefully! :)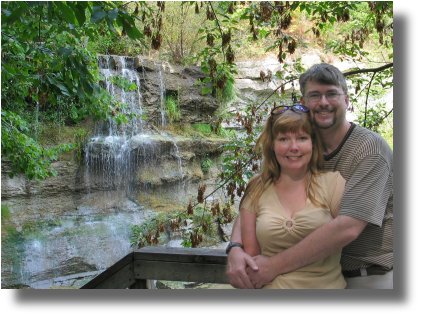 Then we had a picnic at this conservation area.


After we hiked around the water falls and along the river, taking lots of nature photos.
We went on a REAL vacation to celebrate our 10 years, in the winter of 2004. A fun adventurous trip to Costa Rica!! Our main attractions were swimming with over 500 wild Spinner Dolphins in the Pacific Ocean. Nature exploring in Corcovado National Park. Soaking in the natural Hot Springs of Tabacon, while admiring Arenal Volcano. A 12 hour "Highlight tour" and lots more... our Costa Rica webpages are here!


E-mail Us
Copyright © 2001-2013 Fluffytails.ca All Rights Reserved
This page has been viewed times since December 12, 2008