Fostering kittens!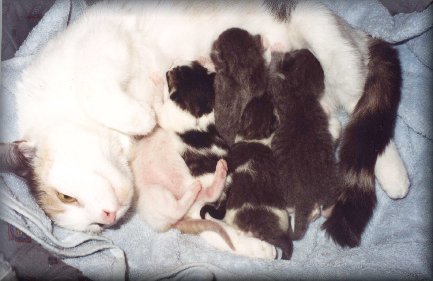 Iris & Fern were born the day before Mother's Day, May 12, 2001. They were a VERY special present for me. We even got to watch them being born!! You see they were foster kittens. What does that mean you ask?

Its a fabulous thing for people to do. Every community has animal organizations that need volunteers.

We phoned a local animal organization, in Ontario (Canada). With in 2 days we had a pregnant kitty, we named her Calista. Calista was happy to have a very safe home to have her babies in. Having a litter outside or in a cage at the shelter isn't very comfortable. After about 2 weeks, 5 kittens were born! Ferris, Fraiser, Furley, Iris & Fern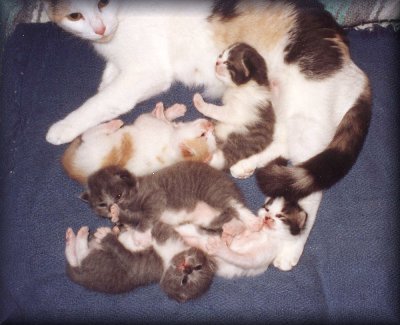 Calista was an excellent mom and took very good care of her kittens. Kittens eyes open at about 10 -14 days. As they got bigger, at 3 weeks, I started feeding them canned food. This took a bit for them to get used to. It involves rubbing the canned food by their mouths where they have to lick their face to get it off. They then discover, wow, what is that? It taste good! Once they caught on they lapped it up!

Then at 4 weeks the litter training began. Which is pretty easy for kitties to learn. Just keep putting kitties in litter box after they eat, play, sleep, every 2 hours or so. After a few days of this you'll see they go in all by themselves! If some are having trouble just stick with it. Please note clumping litters are NOT good for kittens as they may eat the litter and it will clump in their bellies!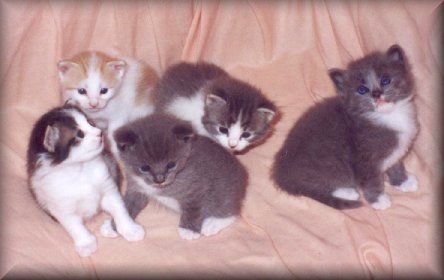 It wasn't long before the 5 zany kittens had the run of the whole house. It was a sad day when the 3 brothers had to go up for adoption and so did Calista. She got spayed first though, as that's SO important.
Iris, Furley, Frasier, Ferris, & Fern (pictured here in that order) were 8 weeks old. They got their first vet check up and shots. Then the boys and Calista went to PetsMart. The boys were adopted right away, Calista too.

That is the worst part about fostering, eventually they have to go up for adoption, but that's when they can make other families so happy.

Being raised from day 1 with lots of love and fun makes for very content, loving, PURRFECT cats.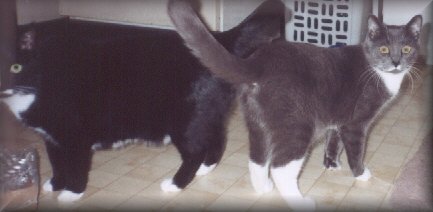 Thanks to the internet and email, we've been able to keep in touch with the brothers! Fraiser now has the name Jinxy - (the gray with white kitty pictured here). He has another kitty friend to live with too, Marky (the black & white kitty). The 2 look like good buds! Jinxy is providing his new family with lots of excitement & love!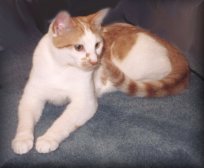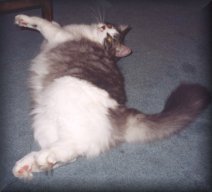 We were very happy to hear that the remaining 2 brothers got adopted into the same family! Their new names being Prince and Smokey. Two young children, Wesley & Mark live here as well and all 4 brothers get along great. We were lucky enough to go visit the family, (here's photos I took). It was wonderful to see how they've grown into handsome kitties.

Prince & Smokey 1 year old.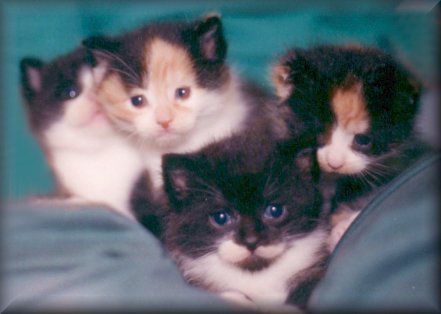 Iris, Fern and siblings weren't our first fostering experience. We've done it several times before. So when our precious kitty Boomer passed away, we knew it was the best way to bring OUR new kitties into our home.

In the past we had fostered mother cats and kittens for the Humane Society. Its such a great thing to be able to play with them all the time, and watch them grow from being a day old. The very first four kittens we fostered were, Jazpur, Portia, Destiny, and Stashanova (pictured here in order). We had these guys around Christmas one year, so it was a full time job keeping them out of the tree!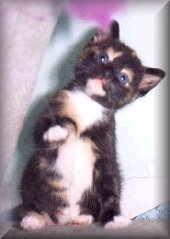 I was so attached to these guys, I cried for weeks after they were gone, but I had to keep thinking of what a good start we gave them, being able to run around the house and play. Not cooped up in some little cage and not being cuddled or played with for the first 10 weeks of their life.
So then we just had to get another mother, Savannah who had 2 kittens, Voomer and Venisha, (playing in photo, just too precious). As you can tell I love naming cats!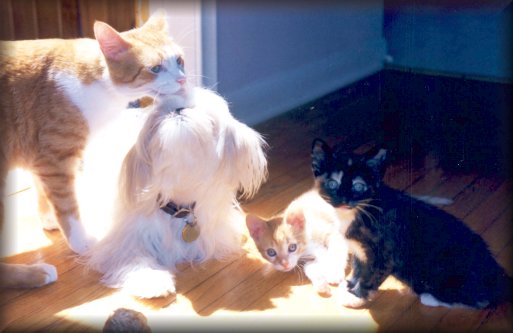 The best thing is that our cat, Boomer and our dog, Jazmyn love having the kittens around as well. Boomer loved to groom the kittens, (or Jazmyn as the photo shows).
We find it nice to have a spare room to keep them in when we are asleep or away, to give the kitty Mom privacy while they are really young. But they get full range of the house when they are in kitten curiosity mode. Believe me there's no keeping kittens behind a closed door. They have to be everywhere! But that's the fun of it :)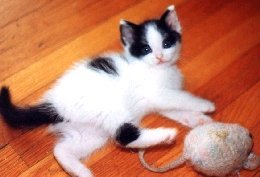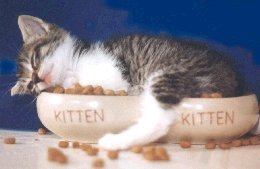 Another adorable group was the "Friends" batch, 3 boys and 3 girls, the names Chandler, Joey and Ross (pictured asleep in his food), Rachel, Monica and Phoebe (pictured to the right).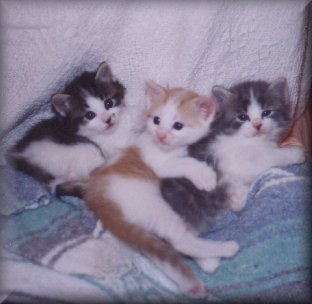 Thru our years of fostering some have gotten sick and I've had to get up every couple of hours to give them medicine, make sure they were warm, and feed them with a bottle. As there are times when the momma cat isn't a good mom. I have had them die in my arms, so its not an easy thing by any means. But you will be HELPING some!
These animal organizations / shelters really do need foster homes, they will even provide the food, litter, boxes, blankets what ever you need. So it doesn't have to be an expense to you if you can't afford it. They really just want your extra space! It's a super experience, as opposed to letting your own cat have kittens "just to experience it". There are way to many unwanted cats as it is, so give this option a try, to settle your kitten urge.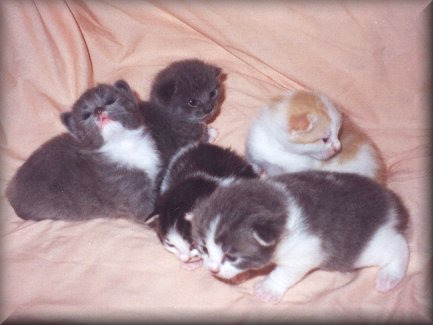 Fostering is especially a great idea for retired people, who perhaps travel a lot and can't really have their own pet. But would love to foster a cat for the months they are home.

Also for a mature single person who is not ready to settle down yet, maybe getting further education and still has moving around to do. So having their own pet may not be the answer, but fostering a cat and kittens for the summer or something may be just what they were looking for.

Many people have no idea there even is such a thing as fostering!
Help spread the word. Foster a cat today!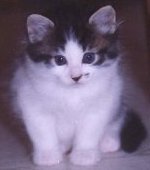 Please always make sure that the foster cat has had a proper vet check.

No infectious DISEASES that could put your own pets in harm.

Of course your family pets health is a top priority and should never be jeopardized!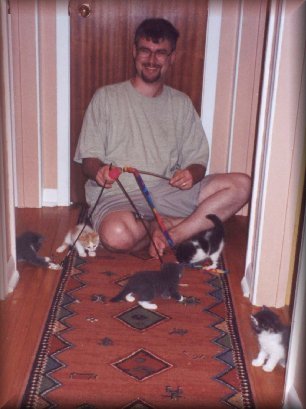 Oh and ladies if you think yes I'd love to do this,
but my husband won't go for it.
Think again!
Doesn't Mark look quite happy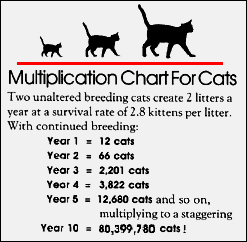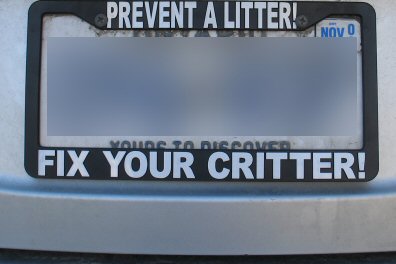 Be a responsible pet owner.
Have your pet
spayed or neutered !


Like our license plate cover!
Get yours and other great items at meowsville

Links for help raising kittens


---

E-mail Us
Copyright © 2001-2013 Fluffytails.ca All Rights Reserved
This page has been viewed times since December 12, 2008
{New} {1st Birthday Party} {Baby Photos} {Recent Photos} {Christmas} {Win Award} {Winners} {Links} {Clubs} {Awards Won} {Banners} {Socials} {Webrings}
| | | |
| --- | --- | --- |
| | Thank-you so much for these important awards. Loving and caring for foster kittens is easy. Doesn't this give anyone else some idea's. Go for it, the rewards are tremendous! | |