Haven't been to Europe yet, but would like a sampling, is this page for you!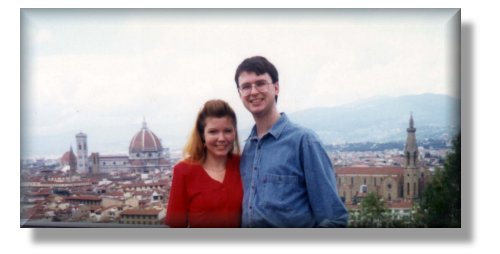 We went to Europe for our Honeymoon (in 1993). Romantic, oh YES! However we traveled in not everyone's idea of luxury, Contiki style! Contiki is a tour group designed for people ages 18 to 35. This means 1 simple thing ENERGY! Its a must have to keep up :) 8 Countries in 14 days. That's fast paced, but hey when you don't have the 3 months to back pack, this is the best way to get a taste of it all and no worries about where you're sleeping that night. Its all arranged. We traveled by bus, which was a great way to see the country side as you journey. And as some of these photos prove, good photo can be taken from a moving bus! Please sit back and enjoy a taste of Europe thru our eyes! We started off in England, Sept.19th. All Contiki tours met here.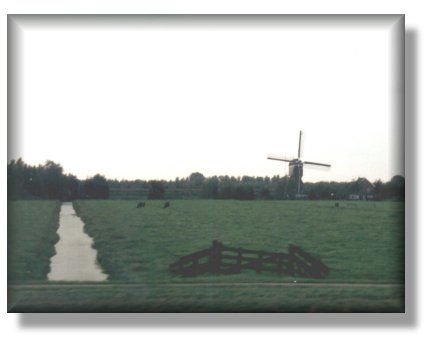 First, off to Holland. My Mom's family was all born and raised in Holland. So going there had personal attachments for me. I enjoyed these water ditches used to keep farmers cattle in their fields instead of fences. Hey whatever works, and this obviously does for them. Of course when you think of Holland, windmills are the first thing to come to mind. They really are everywhere. Our short time in Holland was rainy, but its a great place to see. I had the best scrambled eggs I have ever had in my life in Holland. I still dream about them :)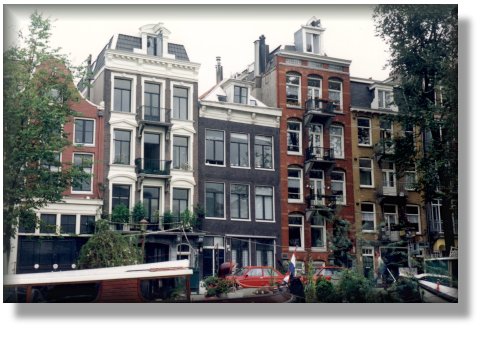 I guess maybe some people's 1st thoughts of Holland are of Amsterdam, not the windmills! :) It's a really neat city, especially at night with the popular "Red Light District". Yes quite the concept! Part of our tour included walking right by the "ladies". A long narrow street with them in their little rooms with red lights on.
We took a boat tour around the many canals. This is a view from the boat. The buildings are all joined. I'd never seen living arrangements like this before, being a small town country girl myself :) What I enjoyed was how the buildings though joined, were each unique looking. Made it nice to look at.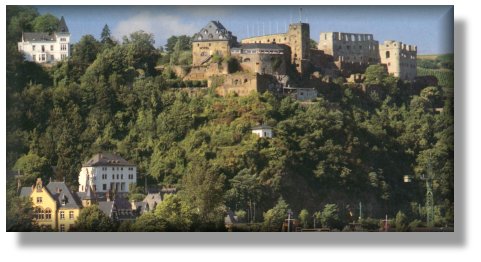 Next it was onward to St. Goar, Germany. This is in the Rhine Valley. Here we were pleasantly surprised by a night tour of a castle with torches! Super cool. It was the Burg Rheinfels, pictured here.
Still in Germany we traveled to Munich and the Marienplatz with the famous Glockenspiel (clock). And was our timing ever great, as we were in time to attend the REAL Oktoberfest in Munich.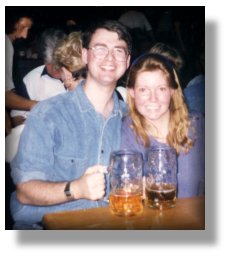 That year it was from Sept. 16th - 29th. It's a huge amusement park type thing with crazy rides that would make you sick just looking at them never mind after those huge mugs of beer. Being a recent University graduate, I majored in large amounts of alcohol consumption. But even these mugs were large for me. And the weight of them, no wonder German woman are strong, the waitresses were lugging around trays of them! There are these football field size beer halls all in a row, like 5-10 of them, who remembers at this point, and everyone is just sauced and singing all night, very happy atmosphere. If you can time it right, do go during their famous event. Whether you're a big party person or not, its quite the experience.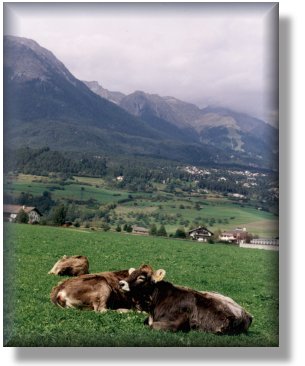 Next was a scenic drive though the Bavarian Alps to Austria and its picturesque village Hopfgarten. Isn't this gorgeous. Time just seemed to stand still here. Yes Austria is "Sound of Music" country. One of my all time favourite films.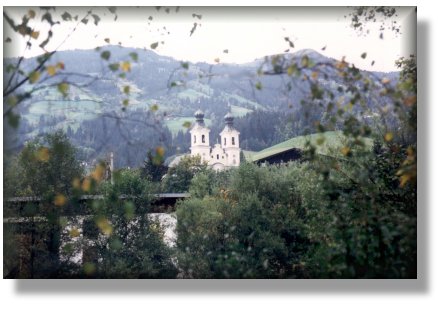 It is truly a breath taking place.
Austria is known for Schnapps. A very huge assortment of about 20 flavours. Unique ones we can't get in Canada, like glacial ice! It looks and tastes as good as it sounds. Refreshing blue crystals.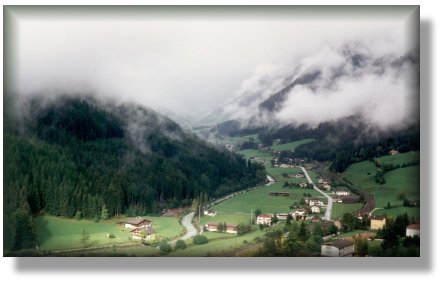 The tour continued on through the clouds, literally! From Austria to Italy.
We LOVED Italy. Its just so different! The ancient ruins, beautiful buildings, gorgeous fountains. Its filled with so much history. Its a must for any European tour.
I didn't realize what nice weather Italy has either. It was 28 C the very end of September. Thus their ability to grow palm trees, who knew?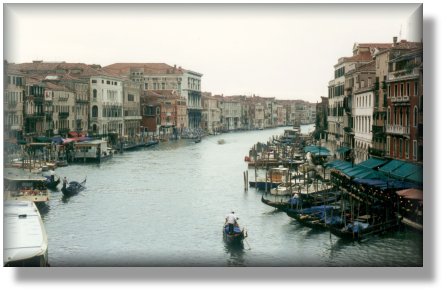 A trip to Venice can only be made by boat. Venice is built on 117 small islands, criss crossed by 150 canals and connected by more then 400 bridges.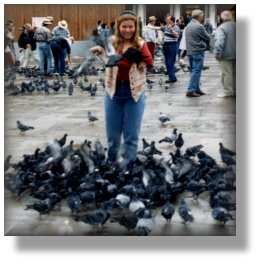 Here I am in St. Mark's Square. With just a few local pigeons! My word, have you ever seen so many. And no I didn't even get pooped on!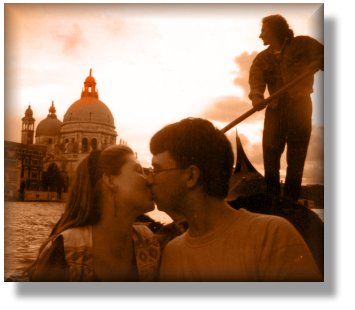 Of course no trip to Venice is complete without a gondola ride.
Since we were only Honeymoon couple on our tour we got a few perks. Such as being serenaded by two older gentlemen with an accordion in our gondola.
It was very romantic, as this photo attests. What a memorable Venetian experience.
I really enjoyed a glass blowing demonstration in Venice. What works of art! I collect a bit of hand blown coloured glass myself. So I enjoyed seeing how they are still made, an amazing skill.best watches replica rolex fake bell and ross buy apple watch replica

From Venice, we moved on to Rome, via Siena. Rome is so amazing. You know you've stepped into a different time while admiring sculptural master pieces like the Trevi Fountain, pictured above. I included a closer up view so the detail and skill involved can be appreciated. The Trevi began in 1734. Legend has it, if you throw a coin over your shoulder into the Trevi Fountain you will one day return. I sure hope that's true!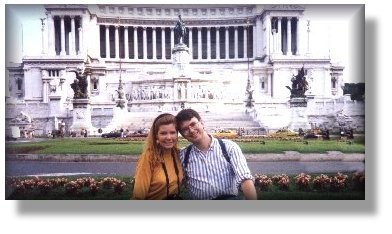 Here we are infront of "the Wedding cake", no I don't think I'm back at our Wedding, this is what the Romans call this monument to former Italian King Vittorio Emanuele II. It dominates the Piazza Venezia in Rome.
Please beware of the MANY gypsy children attempting to pick pocket while in Rome. They are excellent at it. Fortunately the little buggers never got us. I literally was kicking in the air at them. If you knew me, you'd know I'm very serious! I would've karate chopped their asses!
Our tour of Rome also included the Forum and Coliseum ruins. Several colonies of stray cats call this home. They are officially protected by the city, being called, the "city's historical heritage". Since they've always lived in the shadow of the ancient stones of Rome. I love cats, so I enjoyed hearing that they are being looked after, best as possible.
We also toured Vatican City and St. Peters Basilica, where the Pope lives. Also home of the most famous works of art on the planet. The Sistine Chapel, painted by Michelangelo. Having taken art classes my whole life up to this point, it sure was a highlight to see the much studied works. However the room was smaller then I imagined, I guess I never clued into the word Chapel. This particular room was not a huge church! But of course the paintings are extraordinary and well worth the hype :)
Next Italian stop, Florence. We visit a Belltower, Piazza della Signoria & the Basilica of Santa Croce. Florence is known for its leather. But most importantly Italy is known for its food and wine. Its all so incredible, so don't hold back!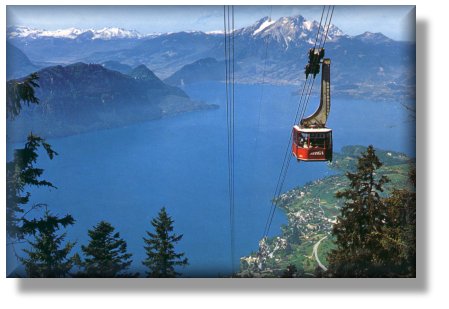 From Florence to Lucerne, Switzerland. Meaning from hot weather, to snow! As we ate dinner a top Mt. Pilatus in Lucerne. Yes that is what got us to the mountain! Scary, YES!
We had a lovely fondue dinner on Mt. Pilatus. Cheese first then a chocolate fondue for dessert.
There were 2 brothers from Africa on our tour who haven't had the pleasure of snow before. Was it ever fun to see their reaction to holding it. Something I definitely take for granted living in Canada.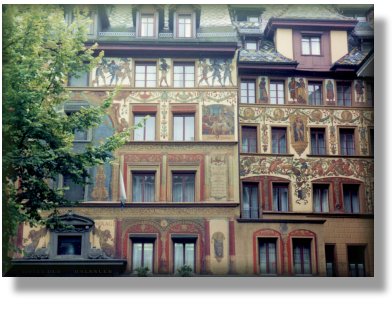 What a pretty city with its cobbled streets and decoratively painted buildings. The Lions Monument and the wooden Chapel Bridge. Switzerland is known for what else the "Swiss Army Knife", which is a must purchase, especially the white one as its only sold in Switzerland (to my knowledge, however that was 8 years ago). And no trip to Switzerland is complete without viewing the "coo coo clocks" which are hand made here.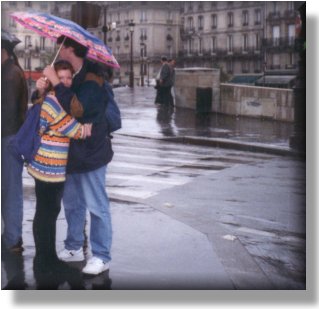 On through the French countryside to the romance that is Paris! What, don't we look romantic? More like 2 drowned tourists, I know!
Despite the rain, Paris is very nice. Our first night was a tour of the illuminations. After all Paris is called the "city of lights". We enjoyed our view from the Eiffel Tower. Looking at all the city. Unfortunately this was a night and my photos didn't turn out. And we almost spent the night atop the tower with a few others, as we were "left behind", but that's another story!
We really enjoyed the museums in Paris. There was a very impressive Impressionist show I enjoyed. The size of those Monets are unbelievable! During our 3 days in Paris we marveled at the Notre Dame Cathedral. And you can not "do Paris" without shopping the Champs Elysees. Where eating your frozen yogurt at a table, ON the street is twice as much as eating it IN the store. Its all about "being seen" there. We ate excellent meals, which even included trying some escargot, "when in France..."
We ended our tour back in England. As you can see we loved our trip, and believe me this is the short version. And just a sampling of photos, I have so many, and still wish I had more! This of course was pre digital camera days. I would be insane in Europe with one of those!
The photos here are all taken by me with the exception of the photo of the means of travel to the mountain in Switzerland is a postcard. Its a bit tricky to get THAT view while you're IN that trolley thing!
Contiki Holidays: Worldwide Vacations for 18-35 Year Olds

E-mail Us
Copyright © 2001-2013 Fluffytails.ca All Rights Reserved
This page has been viewed times since December 12, 2008