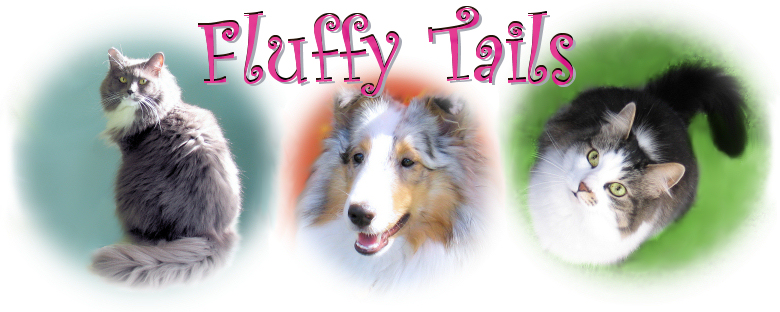 Looking for our What's New
Christmas Tree Decorating CATS!
We also run a FUN facebook page for dog stuff! Enjoy & click LIKE here
Julip's Summer, Autumn & Winter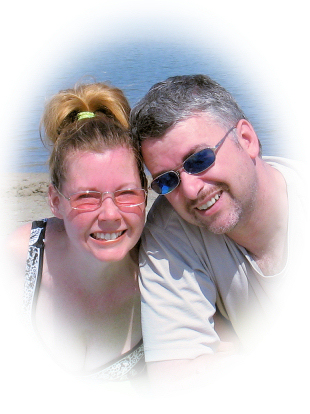 Hello! Welcome to Fluffy Tails.
This is a website about us, Carla and Mark,
our travels and adventures. It centers around our
beautiful fluffy tailed kitties Iris and Fern
and super Sheltie Julip!

Like most cats, Iris & Fern run things
around here,
so they are going to start things off...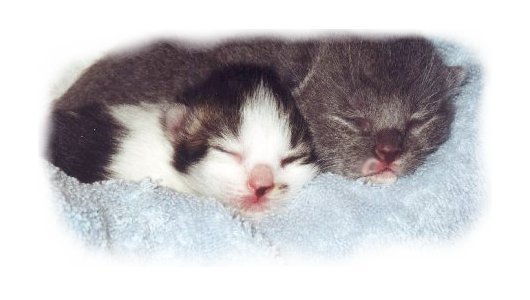 Hi, we are actual sisters! Born May 12th 2001.
Making us 14 years old!
Our momma was a foster cat, temporary homes
are needed for pregnant cats, thru animal aid
places. Gives them a safe place to have their babies.
Where their kittens, like us, get lots of attention and
room to run and play.

We are just 5 days old here.
Our eyes didn't open till about 10 days.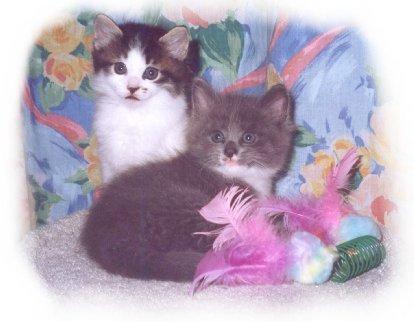 Here we are at 4 weeks old.
I'm Iris, the one with more white.
And I'm Fern, the kitty with mostly gray fur.
We are able to stay in our home, forever!
We are SO lucky!
This is a really fun place, as you'll soon see.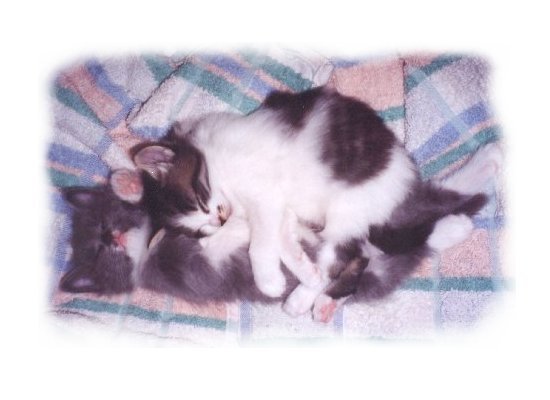 We are best sister pals and love
each other so much.
We cuddle together and have a
great time playing.
Its fun bugging Mom and Dad too.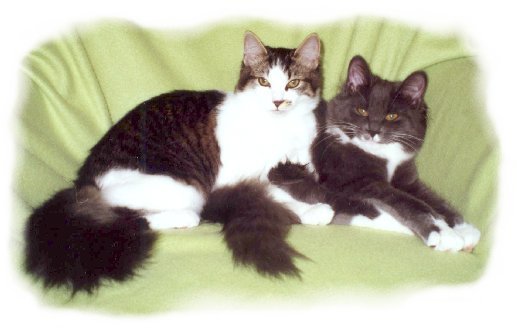 Our fluffy tails came about slowly. Getting bigger and fluffier, with each passing month.
Mom has always had cats through her years.
But we are her first, "fluffier then usual" tailed cats.
Thus all the fuss with our
website name Fluffy Tails!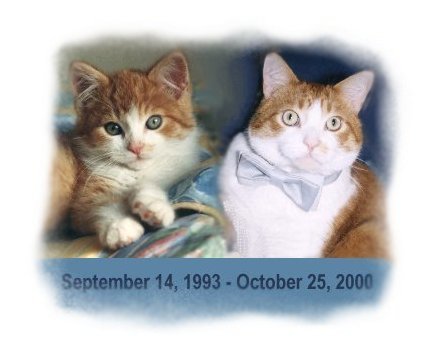 There was another kitty here before us.
His name was Boomer.
Boomer was a wonderful kitty. But unfortunately,
he passed away unexpectedly from a blood clot
(thrombosis) at only 7 years old.

Its been our job to bring kitty love back into the house.
Mom says we do a PURRfect job of that.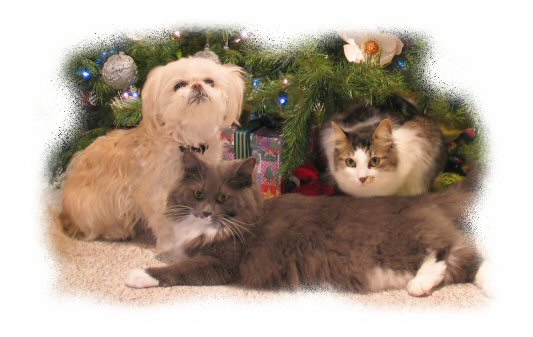 Here we are with our doggie pal, Jazmyn.
Jazmyn was our fun playmate for 9 years,
she sure liked us cats, since she had 7 years
with Boomer before us.

She put up with us cats right from the
start, as CRAZY kittens,
lets just say we were a pawful!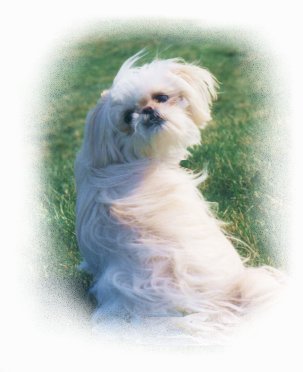 Sweet Jazmyn lived 16 and a half amazing years!

She was adopted from the Humane Society at 6 months old,
and enjoyed life to its fullest with all of us.

We were all very sad when Jazmyn passed away of old age.

But with some time (about 15 months) we were ready
to bring doggie love back into our Fluffy Tails family.

So ...


Welcome our newest addition - Julip! She joined us in Feb. 2012, and has kept us
very busy ever since.

Julip is a playful, energetic smart girl who makes us smile every day!

Our website has quite an assortment here. As you'll see from the links below.
Please sit back and allow our Fluffy Tails website to entertain you!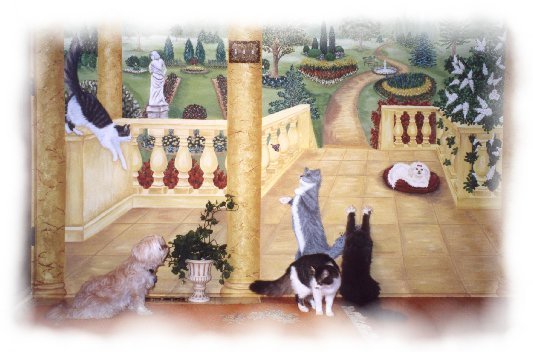 Look at us! We are extra special. Mom painted us into a mural in our living room. We just love it! See a link below for more of Mom's artwork.

We each have our own webpage, otherwise this one would go on and on...
Interested in reading more about IRIS , FERN & JULIP. Click on our names in above to check us out!
Purrs, Barks and Fluffy Tail waves!


Click here to e-mail us, BUT please put something relevant in the subject line like one of our names etc. With all the spam that goes around it might get mistakenly deleted otherwise. Thank-you!

When we turned ONE we had a BIG PARTY! Then a smaller event when we turned 3.

To view our other pages, please click on the photo you want!!


E-mail Us
Copyright © 2001-2013 Fluffytails.ca All Rights Reserved
This page has been viewed times since December 12, 2008
Interested in linking back to our site? Please do so with one of our banners. Thank you!