Cheltenham Badlands

- Sept. 2010


This is a very unique geographical land formation for Ontario, Canada. Near the villages of

Inglewood and Cheltenham in the Caledon Hills area (map at bottom of page).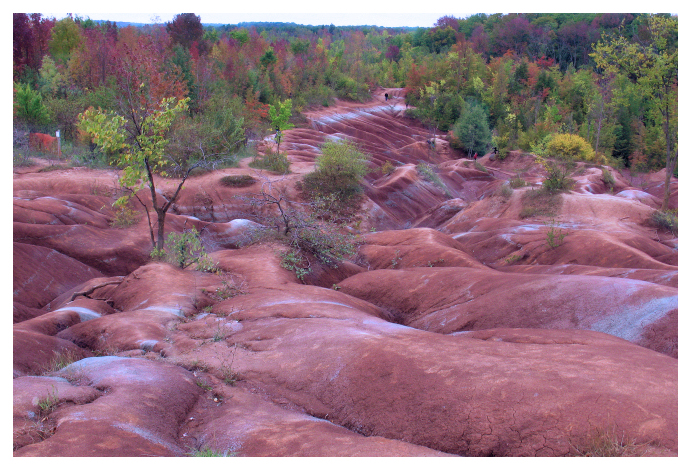 The word Badlands refers to an area of soft rock with no soil or vegetation
that has become molded into a rolling landscape of rounded hills and gullies.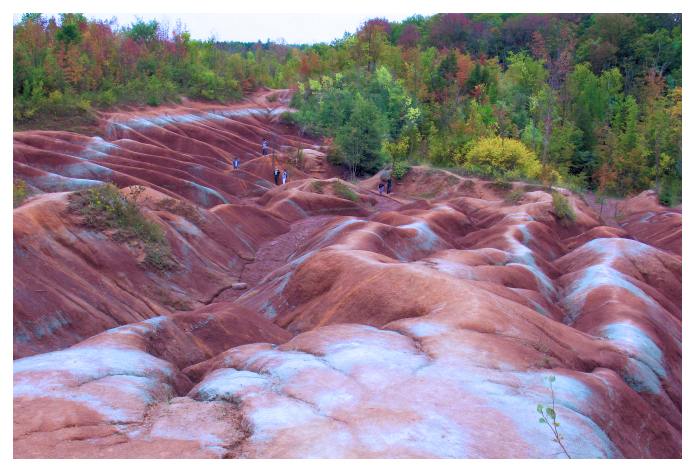 This wonderful creation started to form in the 1930's, after the land had been over used for farming.
Cattle stripped the protective layer of vegetation, exposing the Queenston shale. It is fairly soft
and clay like, allowing for easy erosion, creating the present day site.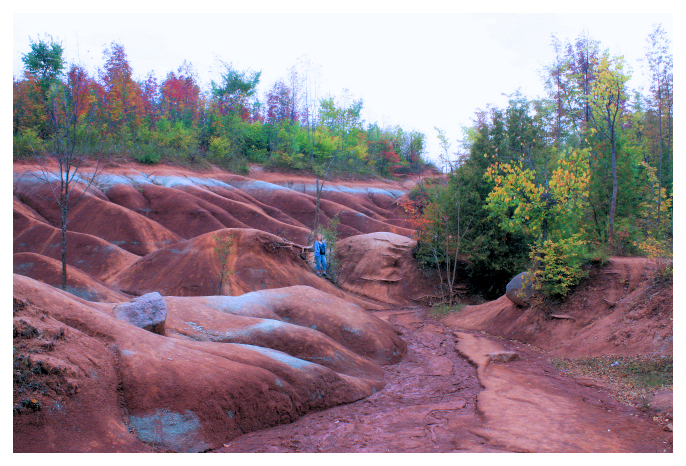 This photo of me, shows the size of the rolling hills. Good hiking shoes are best,
as there is some climbing involved.


This stunning red colour
is from the iron oxide in the shale. The greenish grey bands
seen throughout the shale are due to the change of red iron oxide (iron III)
to green iron oxide (iron II) brought on by the circulating groundwater.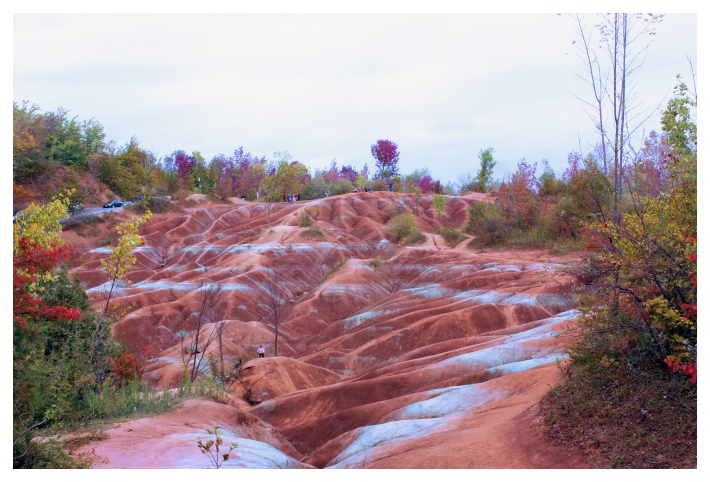 You can see the road in both these photos, so once you're on
Olde Baseline Rd. near Creditview Rd. you can't miss this stunning destination!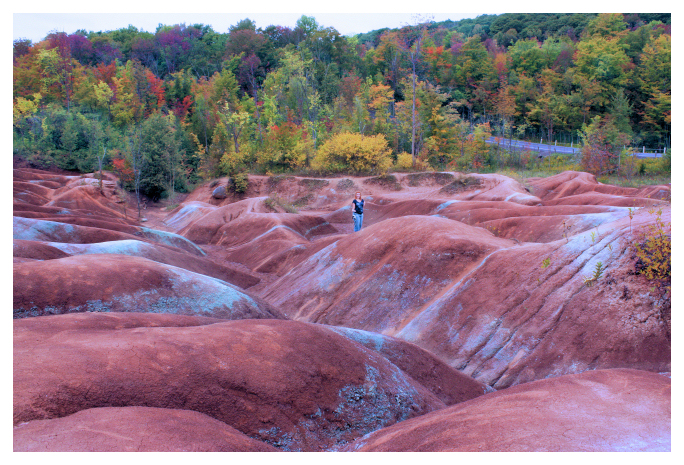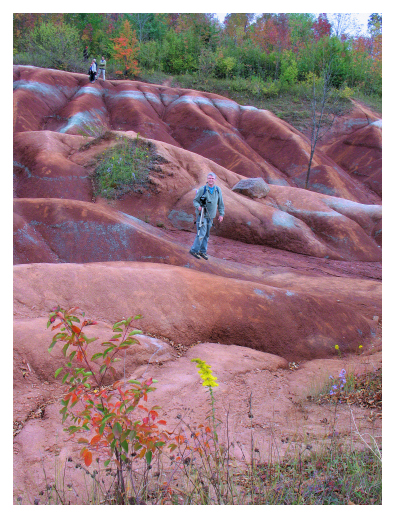 This site was acquired by
the Ontario Heritage Foundation
in 2000 and is under the care
of the Bruce Trail Association.


These Badlands are part of
Ontario's Niagara Escarpment,
which was designated a
UNESCO World Biosphere
Reserve in 1990.
The limited vegetation on the shale makes for wonderful photographic opportunities.
Especially in the fall - these were taken Sept. 18th.
Mark enjoying the gorgeous view below.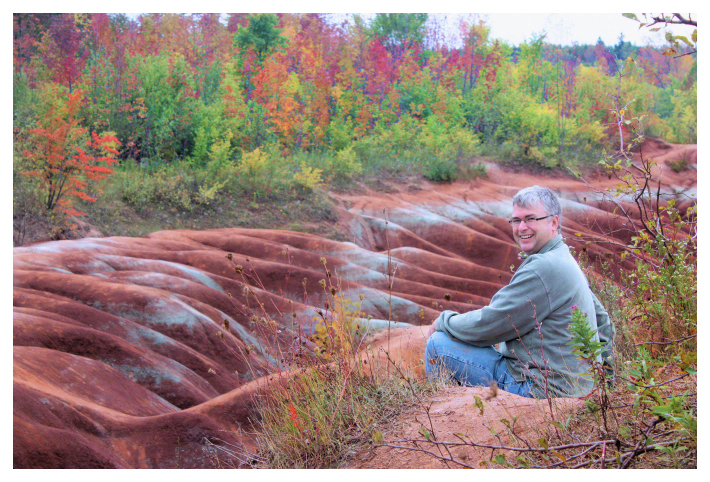 The other side of the main area are some more exploring options.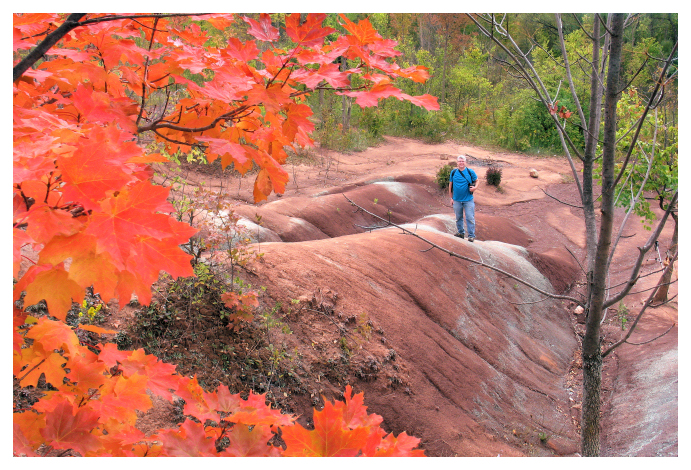 Close up of the greenish grey shale. You can see how fragile it is, thus the
concern for these Badlands. Take care when walking on them!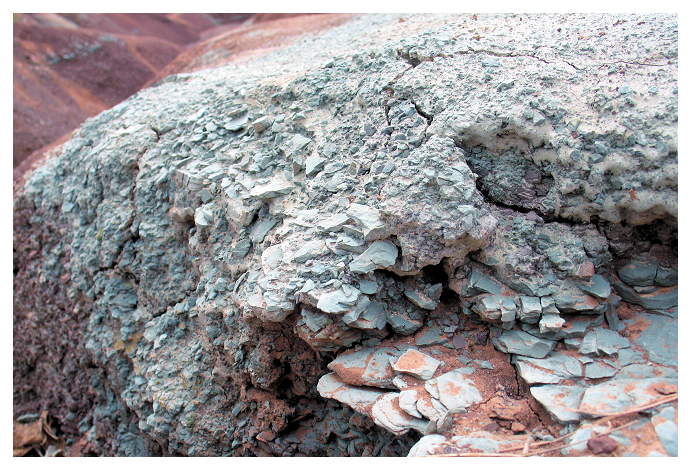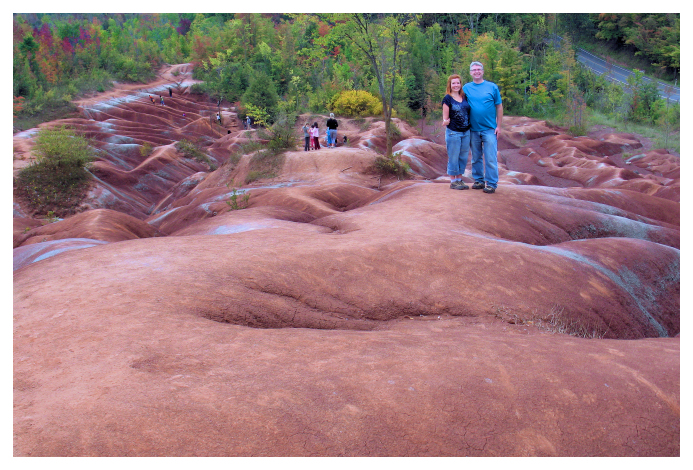 A photo of us both!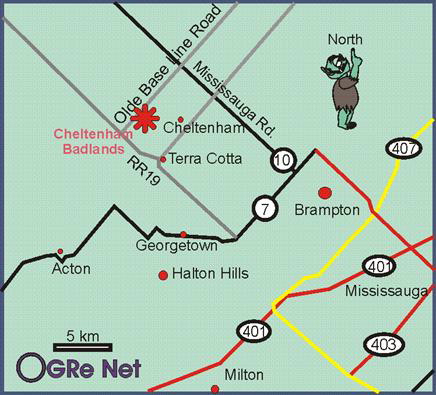 The Badlands area map
.
Olde Base Line Road & Creditview Road

This is a free location, a few spots to park,
but mostly pull to the side of the road.

Remember no washrooms or food there,
so bring a picnic and use some facilities
before you get there!

Wear your hiking shoes and don't
forget your camera! Enjoy!
---
Note:
Received this important email
"You have some really nice photos on your page. And you got all of your facts about the Badlands right. Just one problem – you forgot about the sign at the top of the hill, in the viewing area, that tells everyone to stay out of the Badlands. You obviously crawled all over the ridges and gulleys, precisely the behaviour that we are trying to discourage. Too many people doing that are causing a rapid deterioration of the Badlands. Because of this, it may become necessary for us to put fencing around the entire site." Dave Moule, Director of Land Stewardship, Caledon Hills Bruce Trail Club

Links
Badland Hiking info. - great!

E-mail Us
Copyright © 2001-2013 Fluffytails.ca All Rights Reserved