Our Cape Cod Adventure Continues!
OUR ACCOMMODATIONS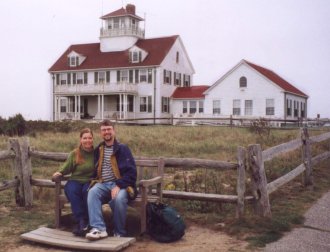 There are tons of places to stay on Cape Cod. I prebooked our
accommodations. Which is recommended if you want to be at a
certain place at a certain time. Many places do get booked, even
in the off seasons. However I don't see how one would be left out
in the cold in Cape Cod with all the places available. I wanted to
stay near Provincetown for whale watching, in the middle for various
sites there and at the beginning, at Woods Hole for an easy stroll
to catch the ferry to Martha's Vineyard. All places were found on
the internet with back up reviews from Cape Cod travel books.
Here are our choices and opinions.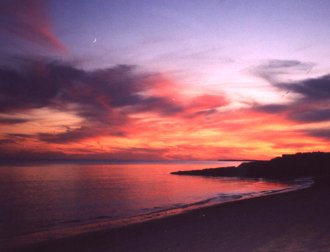 Our first 3 night stay was at The English Garden Bed & Breakfast in Dennisport. I found this on the internet. It was a great place, we were really impressed. The B&B's owners Anita & Joe are very successful at pleasing their many guests. This B&B is a 2 minute walk to the beach. Where we were treated to this amazing sunset on our first night. Their website is excellent at describing this lovely place, full of great photos! The breakfasts were excellent, they filled us up until dinner! The extra thick belgium waffles with whip cream, fruit, maple syrup and bacon were a real treat. We really enjoyed our experience here and would gladly recommend it. And more importantly return ourselves. The price was extremely fair, starting at only $80 a night in the off season. Our latter choices were more pricey, not as nice and we weren't fed! We found ourselves saying on several occasions how we wished we were back at The English Garden!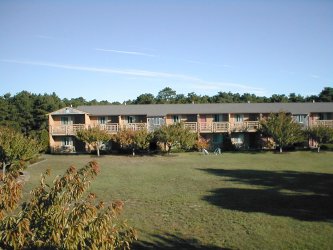 From our stay in the middle of the Cape we moved up closer to Provincetown. Wanting to avoid the hustle and bustle of Provincetown itself we opted to stay in Wellfleet. There aren't many options along this stretch of Route 6. So the tour books and internet steered us to the Wellfleet Motel & Lodge. The only thing this place has going for it is the indoor pool and jacuzzi. However a "Nor Easter" was settling in and it was a very chilly outdoor walk from the lodge to the motel building where the pool is. They make their "courtyard view" rooms sound special. They aren't, wish we had known. We were there the U.S. Columbus Day weekend which meant holiday rate prices, 3 night minimum stay and breakfast not even included! Won't be rushing back to stay here.

Our next stop was specially fit in because I thought it was the prettiest place I'd seen on all of Cape Cod.
Well we were SO disappointed to find out we were scammed. The view they show on their website
and pamphlets is infact digitally enhanced. How misleading and in very poor taste! Unfortunately they had
already taken the price of our room off our Visa upon our earlier booking over the phone. When discussed
with the staff they first literally acted "stupid" like what was I even talking about. Then a very rude man said
something to the effect of, well we are on the beach, what does it matter how we are situated.
This is a very expensive place, there are other places to stay all around it on Bank Street in Harwichport,
like the Sandpiper Inn, right beside it. Of course this is our opinion, but we believe misleading advertising
like this should not be supported.

The 1st photo below is the digitally enhanced one the Winstead Beach Resort uses. This is the view we fell in love with. Of course NOW I can easily tell where its been enhanced with the beach in behind.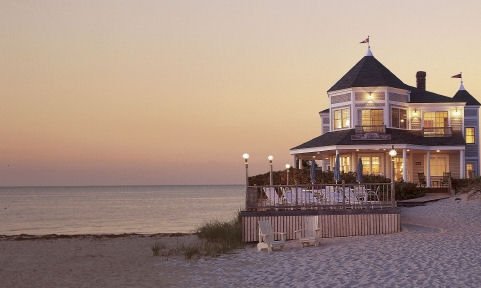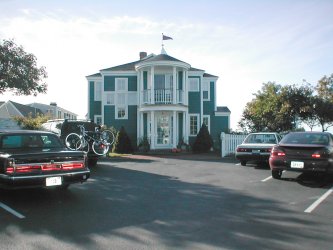 The REAL view is this!

Their photo gives the illusion that its right on the water.
When really this is what you'd see as you arrive.
Not even a glimpse of water from the parking lot!
Wouldn't you be upset?

False advertising that I'm not impressed with!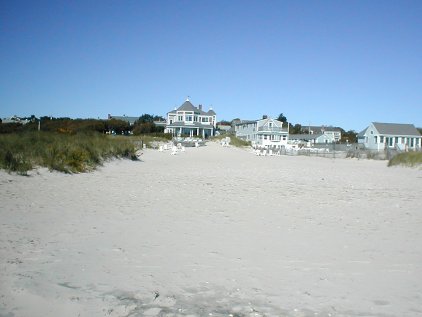 You can see from these photos how it differs.

Yes it is on a beach!

Just not as their photo suggests!

It was just way to pricey for what you got, our room was dark & gloomy. The breakfast was not exciting.

Obviously we were not impressed.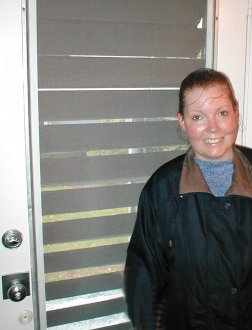 Our last accommodation was in Woods Hole. The Nautilus Motor Inn
was chosen for its short walk to the ferry for Martha's Vineyard.
The Sands of Time Motor Inn & Harbor House is right beside the
Nautilus, it is nicer and was our first choice but was already booked
months in advance when I was searching. The Nautilus might be
fine in the summer. But during gail force winds and a rain storm
the badly designed doors are not a wise choice. The wind was
howling thru this our front door to our back balcony door which had
the same wooden slates. The Northeaster storm we were experiencing
at the time knocked the hydro out at the hotel for several hours so
we couldn't even crank the heat. So needless to say we were not
fond of this place either.

There are a few campgrounds etc. for camping on Cape Cod.
However they are open only during the summer. Good luck in your own accommodation search!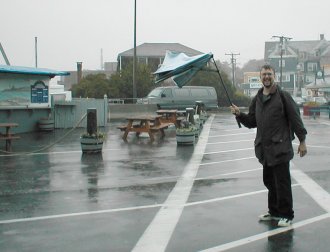 We did take the 40 min. ferry ride to Vinyard Haven on Martha's Vinyard.
Even thru gail force winds and torential rain, we made it. So we did set
foot on Martha's Vinyard, but that's about it! The storm canceled all
the island bus tours. We took a city bus to Oakbluffs, the place
know for its Gingerbread houses. Most of the shops were closed,
either because of the season or the storm. There was talk of
canceling the ferry back. So we high tailed it to the ferry by cab
and caught it back to Cape Cod. I guess others have more romantic
sories of Martha's Vinyard, but we indured a rain storm in Paris,
France as well, so I guess we are developing our own memories
of these romantic destinations.

SHOPPING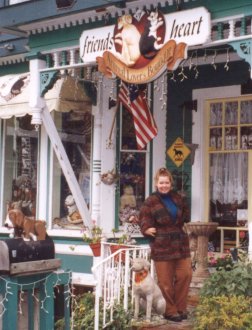 The best stores on the Cape are the Christmas Tree Shops scattered thru the towns. No they don't just carry Christmas items, they carry a bit of everything at really great prices. Its like one stop shopping for gifts, souvenirs and even snacks.

I'm a thrift store queen so imagine my happiness when almost every church on the Cape has a thrift store attached to it some how. There are even brochures outlining exactly where the thrift stores are. All are run by sweet retired ladies who kindly let us use the facilities since the ones on the beaches were locked up for the season. The thrift stores do run on limited days & hours so check the brochure.

The antique stores were nice but pricey. We really enjoyed the art galleries we toured, extremely talented artists.

The funiest places we found to shop were Provincetown, Chatham and Hyannis. Each little town offers quaint stores on its main street. We didn't have time to shop at every place but I did make several cat item purchases that were very exciting. There is a store called Cat Country at 362 Main Street Hyannis. Offers nothing but cat related items, my dream store! :) Plus 4 real cats to amuse you on your wandering thru. This place doesn't have a website, although of course I told the girl to work on getting one! The place almost next door Red Fish Blue Fish does have a website & is a very neat store offering internet access too! Provincetown offers quite a few animal related stores. My favourite was Friends of the Heart at 234 Commercial Street, pictured in the photo.

SEAFOOD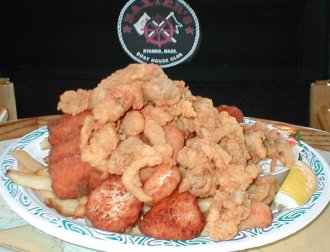 A popular dish on the Cape is deep fried Clams. They come either as fried clam strips or fried clams with the bellies. It's obvious one can not leave the Cape without giving these a try. I opted for them in a seafood platter including fried shrimp, scallops and "Scrod" fish. The heaping plate pictured here has the fired clams with the bellies on top. Well my opinion...they must be an acquired taste :) I found them kinda chewy and even still gritty with sand that apparently is very hard to get completely out.
Fried clams go by a market price which was quite pricey at $15 for a plate of them. I guess during the summer the same plate went for almost $25! This dinner was at Baxter's Boat House on the harbor in Hyannis.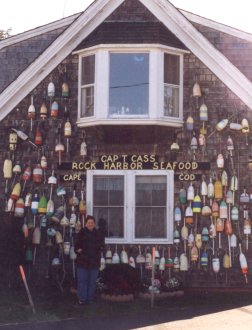 Mark & I both love lobster, shrimp & scallops and dined on either one or all 3, almost every night!

I really enjoyed my lobster casserole at the popular Cape restaurant chain Hearth & Kettle. The lobster bisque at Moby Dicks in Wellfleet was very satisfying with big chunks of lobster. Their lobster roll had a big portion of juicy lobster pieces as well. However it came on a big piece of toasted bread, wasn't sure if this was the way it was supposed to arrive here, or they just ran out of rolls? At two restaurants I actually had to ask for cocktail sauce for my shrimp. It had arrived with tarter sauce? Odd I thought, is this a Cape thing? Another bizarre thing is Clamato juice is unheard of here. In Canada Clamato juice is the integral ingredient in a Caesar (vodka & clamato juice in a celery salt rimmed glass, spiced up with tobasco & Worcestershire). Its Canada's #1 best selling cocktail. Seeing as clams are all around on the Cape I suggest some business person start making some local Clamato! (Clam & tomato juices). Of course lots of yummy clam "chowdah" was also enjoyed.

BIKING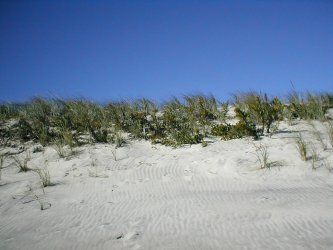 The Cape is perfectly set up for bike travel.
Although we never took advantage of this means of travel,
I'd highly recommend it to anyone who does infact enjoy cycling.
There are bike rental places everywhere and excellent bike routes taking you from one end to the other.
Especially in the summer when the roads are super packed
and with those hefty beach parking fees. I'd think biking is the
only way to do Cape Cod.

We had a wonderful vacation. Cape Cod is a place full of history,
sand, waves and shells. Go explore and enjoy!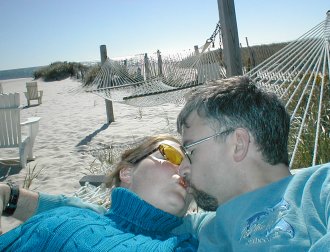 Any questions about our Cape adventure? Write us an email!
Page 1 of Our Cape Cod Adventure starts HERE!!
All photos taken by Carla or Mark, yes even that kissing, Mark's multi talented! :)
Except the photo used from the Winstead Beach Resort to show its falsifying.

Link - CafeTrip.com

E-mail Us
Copyright © 2001-2013 Fluffytails.ca All Rights Reserved
This page has been viewed times since December 12, 2008