In October 2007, Mark and I went to Las Vegas for 5 nights, with friends.
It was our first trip to this wild city.
We tried to see and do as much as we could,
and we were pretty successful! Here's some highlights of our trip!
Good Vegas links & tips at bottom of page.
---
After a couple days on the Strip (photos on our 1st Vegas page) we rented a car from the Flamingo's lobby. We started with a trip to Hoover Dam and then Red Rock Canyon, only 20 min. outside The Strip!
This was fabulous.


HOOVER DAM


T
he Dam is a National Historic Landmark and has been rated by the American Society of Civil Engineers as one of America's Seven Modern Civil Engineering Wonders
.
Construction began in 1931 and was completed in 1935.
The 1983 high-water mark or "bathtub ring" visible on the Lake Mead side. The Western States received unusually high rain
that season as a result of an El Nino
event. The bathtub ring is white because of the deposition of minerals on previously submerged surfaces.





Dam height: 726.4 ft

Dam length: 1244 ft


Dam thickness: 660 ft

104 died building it

Nevada on one side

Arizona on other side

named after President

at the time, Herbert Hoover




The Hoover Dam Bypass Project.

When completed, this signature bridge will span the Black Canyon, (about 1,600 feet south of the Hoover Dam), connecting the Arizona and Nevada highways nearly 900-feet above the Colorado River.

It was really interesting to see this project underway. However there was a big set back when the two highline tower cranes fell unexpectedly during a windstorm in the fall of 2006.
Thus the completion has been set back over 2 years till 2010.

This project was conceived to address a number of traffic congestion and safety issues, as approx. 17,000 cars pass over Hoover Dam daily.

It only takes about 45 min. to get to Hoover Dam. After our visit there we went to Red Rock Canyon.
A must stop if you are in Vegas, its only 20 min. from The Strip. We are more nature travelers, so we really
enjoyed our afternoon here.




Red Rock Canyon National Conservation Area

encompasses 197,000 acres within the Mojave Desert.

It features a one-way 13-mile scenic drive, with several hiking paths. There is a Visitor Center which offers information and interpretation about recreation opportunities, wildlife, vegetation, geology and cultural resources, plus a gift store.






Gorgeous views and Joshua Trees -

native to southwestern North America. Confined mostly to the Mojave Desert, they thrive in the open grasslands. They are not very sturdy because of their shallow root area and top-heavy branch system, but if they survive the rigors of the desert, one can live to two hundred years. The tallest trees reach about 15 m tall.








The Desert Tortoise is the largest reptile in the Southwest USA.
This guy was in a huge fenced in area at the Visitors Center.



The antelope ground squirrel is easy to see during the day, they enjoy




foraging and sunning themselves.

They live in burrows, which they dig
for themselves. They

do not hibernate

.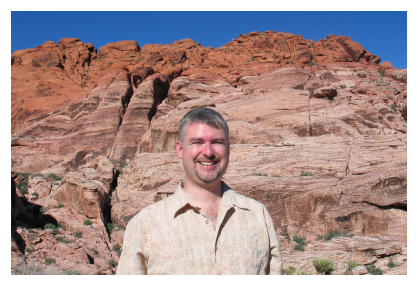 This rock formation is called the Calico Tanks.
It is the first big look out point on the route.

The weather for our Oct. 10th day was perfect.

The sky was a brilliant blue at this time of
day (around 4 pm) and where we needed it to
be blue, behind the beautiful red rock.

It was about 28 C (82 F) and a really nice breeze.









To fully appreciate the height, spot the climber on
the left, he's just a dot!

Then a zoomed in view above.

I love this photo. We look so outdoorsy.



Please note there is only a pop,
Gatorade, water machines for drinks.

NO food can be purchased once you've
reached the Conservation area.

We hoped we could pick up a
chocolate bar or something to get
us thru - no such luck.

So go prepared!

It only cost $5 per vehicle to go thru the
scenic loop.

As you can see, it is well worth it!

Various points along the 13 mile scenic loop.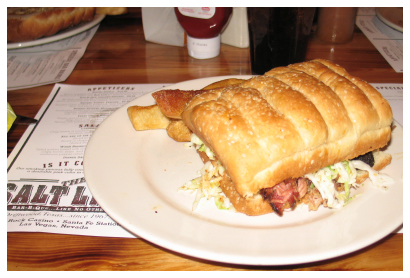 After our full day of exploring Hoover Dam and Red Rock
Canyon we were starving!


About 10 min. from the Red Rock Conservation area is


Red Rock Resort and Casino

.

We stopped in here for dinner, as I had read on the net they
had great restaurants. It is also a very pretty place.

We went with Salt Lick BBQ. We loved our pulled pork
sandwiches with coleslaw (on top of the pork).

Their BBQ sauce was SO tasty, very happy and impressed!

Look at the size for $9.99!
---
When we got back to the Strip we went to
MADAME TUSSAUDS WAX MUSEUM


We really had a hoot here. There are props you can use. We spent a good 90 min. here.
Some are more life like then others, but all are pretty good!


Yes you can marry George Clooney. Dance with J Lo. Hang with Hugh Hefner. Sing with Elvis.
Do American Idol. Share a look with the The Rock. With 100 stars, its easy to get caught up in the fun.

Remember to find a 2 for 1 coupon in a Vegas magazine or
buy them at a
Tix 4 Tonight booth where they are $12 each
instead of $24!
---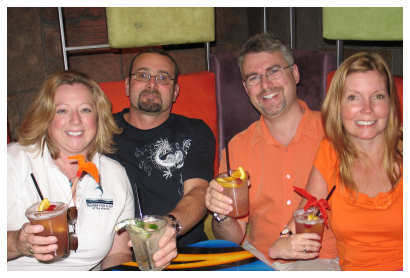 Finally, a photo of us and our friends in Vegas!

We had a lot of fun times. Especially at Kahunaville at Treasure
Island. Awesome drinks, look for a guy handing out 2 for 1 drink coupons after the Sirens show at TI.

Also danced and drank at Margaritaville in the Flamingo.

We frequented The Carnaval Court Bar the most - 3 nights!
It was just so fun and close to the Flamingo. Its part of Harrah's,
it is an outdoor place with a super band called The Garage Boys
(played during our visits).
We never had to pay a cover, not sure about the weekend?
Great dancing and
watching the Flair Bartenders was fun.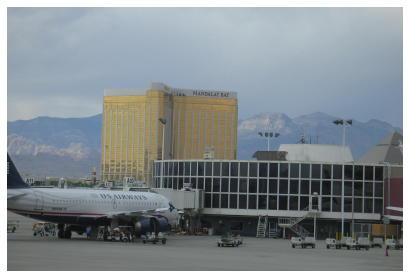 We had to head out on Friday morning for our early afternoon flight.
Taking those airport shuttle buses works great.
As you can see, the airport is close to The Strip, Mandalay Bay in-behind. However as close as it looks, its not something you could walk to!

I had a bit of an issue thru security. Apparently my Seigfried & Roy mini snow globe was dangerous! I had to return to check in and put my carry on as checked luggage.

Least our plane left on time and we made it home safe!
Going to Vegas from Detroit our plane was delayed 3 hours, then canceled. Luckily we were there early and were put on a flight to Phoenix, then on to Vegas, so we were there about the same time as originally planned.


Vegas is a place you'll enjoy seeing at least once. We aren't gamblers (obviously this is the first time I even mentioned the word), we put in a few coins but didn't win. There's so much to see, gambling doesn't have to be a priority, unless you want it to be. We had 5 nights, but with travel time only 3 full days on The Strip and 1 day of renting a car for out of town sight seeing. This was a good amount of time to accomplish a lot.

I do recommend planning out your Vegas trip so you get in as much as you can.
Enjoy!
---
BEST TIP

- buy tickets for most anything at a Tix 4 Tonight booth. There are 4 locations. They sell tickets at

half off

for most shows - like magic, comedy, Star Trek & even for restaurants! Also has some Cirque & big name shows. However obviously those sell out with in minutes of opening - which isn't till 11 am. We used it for Dirk Arthur Magic - only $15 each. Star Trek, half off the $42 reg. price. And half off Madame Tussands Wax museum, we paid $12 - its normally $24. So it is well worth it to check out what these booths are offering! Look for their coupons in various Vegas magazines. It will give you front of the line access and $2 off their $4 processing fee.



OBSERVATIONS:




1.

Things, such as any of the sights, don't open until 11 am. I'm used to getting an early start on the day when traveling - but Vegas thrives on the night life, so stay up till the wee hours and sleep in!


2.

Know the highlights, (things to go see) for each casino/resort before you go. Even knowing what we were aiming to see, things were difficult to find. As in not many signs and arrows anywhere saying what to see. So know ahead of time.



Want to go to our first Vegas page, photos from The Strip Casino's and Fremont Street.



E-mail Us
Copyright © 2001-2013 Fluffytails.ca All Rights Reserved