Camping 2005


Bancroft Ontario - Mineral Capital of Canada.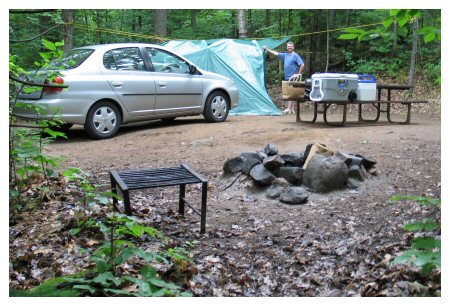 We camp at Silent Lake Provincial Park,
about 20 min. outside of Bancroft.
It is 7 hours from our home.
Our site #113
Like most camping experiences,
it rained on and off, 3 of our 4 days!
As always, that just adds to the adventure!
My highlight - a chipmunk!
We brought bird seed from home and sprinkled it around our site to see what we might attract! Black bears are in the area, hopefully bird seed wouldn't attract one of them!
I was SO thrilled when this little sweetie showed up. "Chippers" was so into foraging for the seeds he didn't even mind me getting SO close. Yes I even patted his back! He made me SO happy!
With a critter this cute, more photos are a must!
He would fill up his cheeks so full, then run back to his hole / home, just a bit up a hill. Drop off the seeds, then return for more. We watched him do this for about an hour, (around 7 pm), while we were preparing and eating dinner. Of course stopping to take photos!
There were neat mushrooms up there too, like the red one in the photos.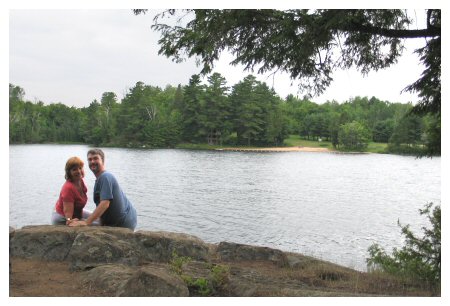 Enjoying the view of Silent Lake.
The beach is across from us.
This Lake is in the center
of the 1,420 hectare park.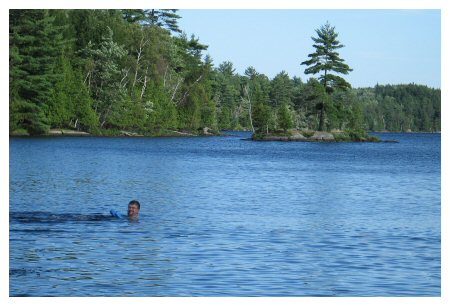 Mark swimming,
(with a blue floating noodle)
in the beach area.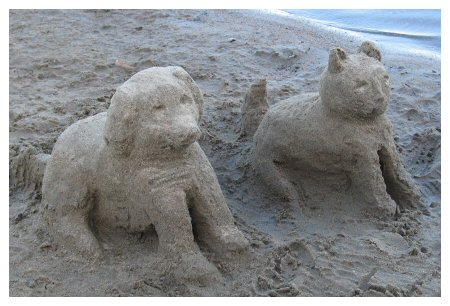 Cute sand sculptures on the beach.
However, we didn't create them. But they were perfect for us.

---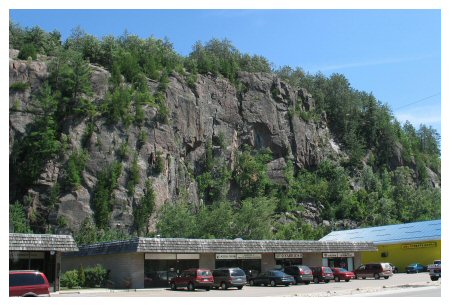 Bancroft has beautiful, high,
rock out croppings.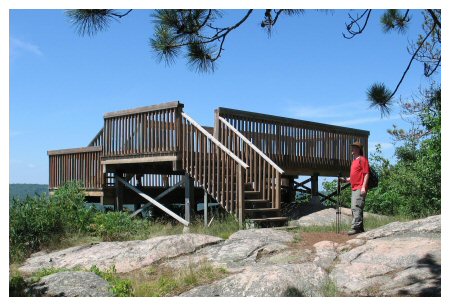 A popular scenic area is a view from Eagle's Nest Hawkwatch.
This is a top the rock wall from the above photo.
Carla on the platform.
Mark by the look out platform.

Mark and the view. Carla on a rock.
Some nature shots from Silent Lake Provincial Park
---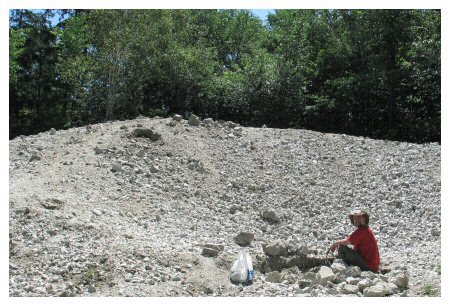 Bancroft and area are well known for Rockhounding, searching for and collecting rocks.
Here was a dumping of stones called the CN Dump.
On Monday we did some searching here and
found a few good ones, pictured below.

Some sodalite (blue), pyrite (gold colour), mica (black). In calcite.

| | |
| --- | --- |
| | |
We went on a Chamber of Commerce tour on Tuesday July 26th, (tours are offered Tuesdays, Thursdays and Saturdays in July & August). The tour started out with light rain and finished with a complete down pour! So unfortunately we didn't get any photos of us in the process of rockhounding. We went to 2 sites, Richardson Mine and Bear Lake Diggings. Both would probably be impossible to find on your own, so we are glad we took the $9 each tour. Which involved your own car following the guide and others on the tour (about 45 min. drive from Bancroft). The sites are off dirt roads, you just park and walk in, distance varying, from a 5 minute walk in to 25 minutes in. Rockhounding in a very dirty job, wear clothes you never want to see again! We were digging in dirt trenches in wooded areas - in the rain! We were soaked and filthy! We did come back with some pretty rocks. We washed them up when we got home and here are our samples... still learning the names!

| | |
| --- | --- |
| | |
Here's a close up of some apatite (green crystals) found in various rocks, mostly white/pinkish tone calcite.
Some of the black rocks are hornblende.

Some green apatite. Banded purple fluorite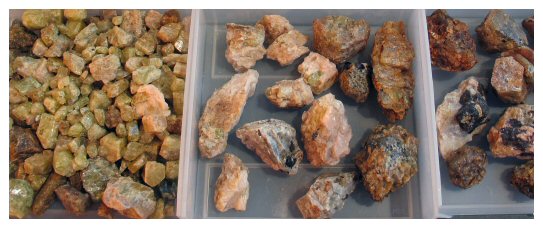 The green apatite prismatic crystals are very fragile, most break off and lots of little pieces can easily be found.
Reddish brown to black wedge shaped titanite crystals.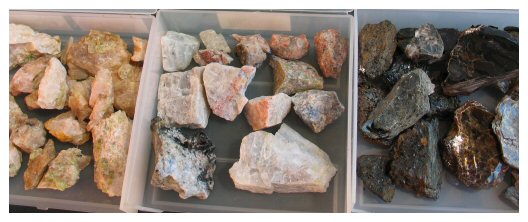 Calcite with green apatite. Mica, (biolite), flaky black rock.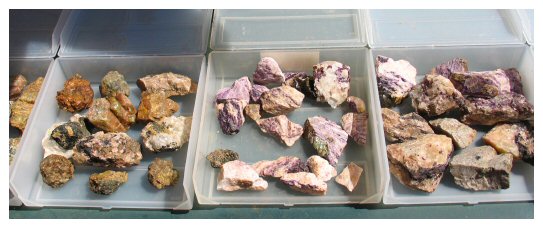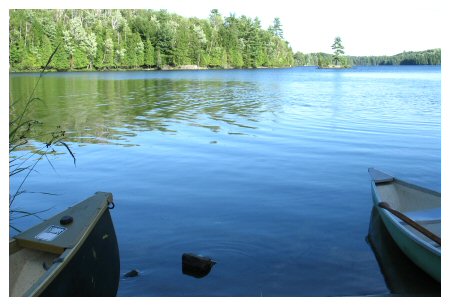 Our Bancroft trip was rewarding, despite the rain.
We enjoyed our 1st Rockhounding experience and are enthusiastic about our new hobby.

Tips we learned...

Bring a shovel, safety glasses, rock hammer, chisels, pry bar, garden claw to pull away dirt, pails, bags, small containers for little rocks, compass, magnifying glass, flashlight, water spray bottle to spray dirty rocks to see what you've got, gloves, clothes you literally never want to see again, sturdy shoes / boots the walks in can be rocky, knee pads or something soft to kneel/sit on, area maps, insect repellent, beverages and food it can be a long day and you are out in the middle of no where.
Links
Bancroft Rockhound guide
Bancroft Gemboree

Bancroft things to do

Silent Lake Provincial Park

E-mail Us
Copyright © 2001-2013 Fluffytails.ca All Rights Reserved