Camping 2006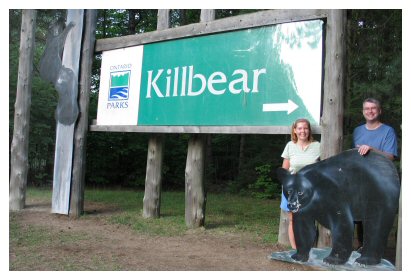 Killbear Provincial Park
Nobel, Ontario, North of Parry Sound
Beginning of August
Yes at Killbear park we did have a black bear encounter! About 3 am our first night one was searching for food around our site. Its loud huffing, puffing, breathing, grunts and MAJOR sniffing by our tent did scare us! We remained still and had no food in our tent so he moved on, thank goodness!
Our home for 5 days, Lighthouse Point area site #1107
The site is across from the water, where we enjoyed the views.
Each section of Killbear has beaches. Ours was just a short walk from our site. Great place to cool off!
Deers are prevalent thru the park, some are friendly enough to get pretty close for photos.
Saw this cute fox on our way to get firewood. Massasauga rattlesnakes are endangered, these signs are through out the park. Hoping to decrease their loss on the roads. 14 were killed in 2005!
The Lighthouse Trail brings you to the Lighthouse! Rocks piled in this way by people are called Inuksuk (link at bottom)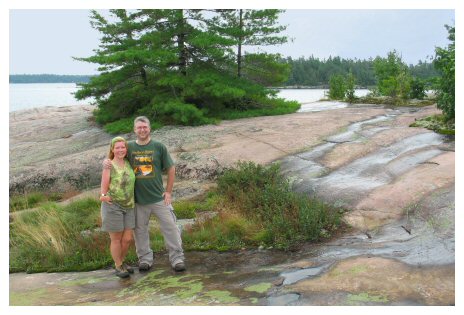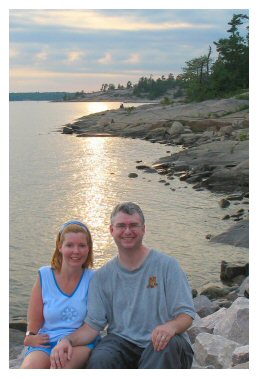 Beautiful rock at the Point Trail hike.
Us as the sun sets by the Visitor Centre.
| | |
| --- | --- |
| | |
We were thrilled there were lots of chipmunks around our site. And they were thrilled we brought peanuts!
It was awesome, they took them right from our hands.
Chipmunks are definitely one of the cutest critters!
Gorgeous sunsets of Georgian Bay. These are from the Lighthouse Trail.

We took the Island Queen cruise thru some of the 30,000 islands. It was a very enjoyable 3 hour trip. The boat hold 550 passengers and departs from and returns to Parry Sound harbour.


People have built cottages everywhere. Some are even lucky enough to have their own little islands!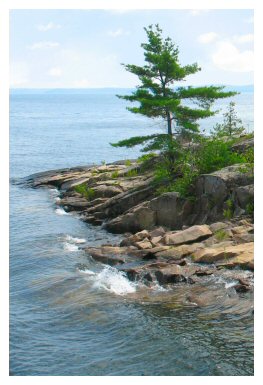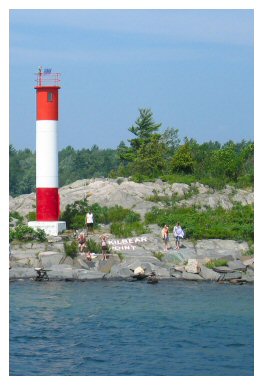 Among the many points of interest
the boat goes past
Killbear Provincial Park.

lt was interesting to see the
places from the water, that we had hiked to.

Anyone that knows us, knows we always take lots of nature photos, here's a few...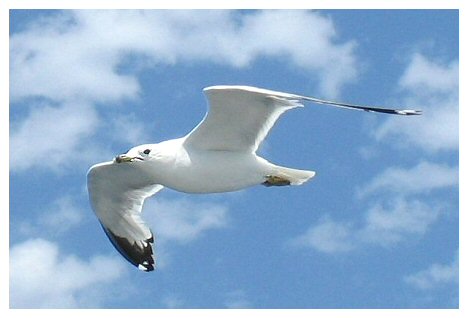 This seagull flying, was right above us when we were on the boat.
We didn't have too much trouble with mosquitoes or black flies during our visit, probably because it was August.
Like all our camping trips, of course it rained, but only during one night and on and off 1 day.
We would definitely recommend this Provincial Park!
---
Links
Killbear Provincial Park
Killbear
Killbear Tips
Island Queen Boat Cruise
Inuksuk
PREVIOUS - Camping 2005 - Silent Lake Provincial Park, Bancroft Ontario
NEXT - Camping 2007 - MacGregor Point Provincial Park, Port Elgin Ontario

E-mail Us
Copyright © 2001-2013 Fluffytails.ca All Rights Reserved