BOOMER'S AWARD'S INDEX PAGE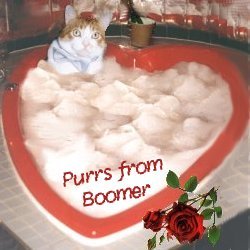 Welcome, this page should make it easier for you to navigate yourself around my awards pages.
I LOVE all my many Awards and I thank everyone for their kindness in giving them to me. Especially the SURPRISE ones!
My awards make me as happy as lounging around in my jacuzzi, who says cats don't like water...
---
Punkins Purrfect Link Award
Mondays Heavenly Cat Site Award
From A Cat's Eye View your site looks Pawsitively Purr-fect
This Site Makes the Cat Nippers Purr Award (Ned & Alex)
Handsome Dude Sam's Seal of Purrfection
The Roscoe Award for a Purrfect Site
Muffin's Award for Purrfect Pages
5 Purrs Award from Cats 'n' Kittens
Hero's Paw of Approval
Dicheles Kitties Love this Site
Lee Ann's Cat Corner Bouquet Award

---

Reeses Gives This Site One Tummy Up!
Lisa's Critter Award of Excellence
The Chico Award Given Only to Great Pet Sites
Molly the Cats NO Fleas On You Award
Lisa Violet Loves It
Lee Ann's Cat Corner Paw-sitivly Purr-fect Award May 1988
Sebastian the Wonder Kitty Paw Print of Approval
1st, 2nd, 3rd Awards in Barnhart Kitties Photo Contest
Simba and Baloo says this Site is Fur-lickin' Good!
Dusty Rose's Dynamite Site Award
Abby's Special Friend to the Animals Award Presented to Boomer
The Roscoe Feature Page Award for May 1998

---

Sharif's Humane Site Award
Dusty Mops Purr Page Award
Cutie Cats Four Paw Award
Catnip Calico's Meowy Fantastic Pet Site Award
Leo's "Cool" as a Minnesota Winter Award
We Know You Care Award from BratCats
The Keeper of the Stars Award from BratCats
The Purrr-severence Award in Memory of Buck from BratCats
Sammie & Beezer's Purr-fect Page Award
You have Purrsonality Presented by Bigpaw

---

Tammy's Dog House Award of Excellence
Pywacket's Purr Page
Hip Kitty's Hip Homepage Award
Four Friendly Felines Award of Purrfection
Safe Haven for Cats - Provide A Home not A Litter
Leo Loves It Award from Sue's Cats
Firefly Glow Caring Cat Award
Thanks for Caring About Animal Welfare from Monday
Mr.Chips Award for Shelter Pets
Pye's Compassionate Heart Award
Bryce's Great Surf Award
Tas Says Thanks for Helping Animals

---

Caesar & Cleo's Catnip Award
Karen's Seal of Approval Award
Grama Thinks Your Site is Puuurfect
Ollie's #1 Mouse Catcher Award
Vegas's Glamour Puss Award
Pretty Baby's "I know a great homepage when I see one" Award
Purry Paw of Approval Award from Matthew & Lucky
Sandra's Purrrfect Site Award
Catalina Island Cats Dream Come True Award
Judy's Purrs n' Fur Animal Loving Award

---

Boomer is Valentine Cat of the Year 1999, Lisa & Critters Contest
CLAW'S Valentine Costume Ball FIRST place Award
October's Brave Cat Award
Tiggers Lifesaver Award
I found the Catnip At Tiggers Birthday Party Award
Goldie Meow's Homepage Excellence Award
Yourky's Animal Antics Award
Biscuit's Buddies Cool I Like This Site Award
Possum's Award of Excellence to Boomer the Crazy Cat
Happiness is Being Owned By Cats Award
Be My Kitties Paws Up Award

---

Ringo's Perfect Site Award
Aussieville Award For Webpage Excellence, Bandit & Buster
Lucy's Krazy Kitty Website Award
Best Website Award from Minnie's Menagerie
Great Animal Webpage Award from Gumnan
Maggie & Tiger Love it Award
Cheech's Outrageous Orange Award
Minnesota Kitty of the Month of March
Minnesota Kitty of the Month of May
Kitty Kat's Palace Award for Great Cat Page July 1999
Award of Excellence, Cats & Kittens Members Choice

---

Cats & Kittens Award of Excellence, Outstanding Cat Webpage
Outrageous Orange Award with my pic from Cheech
Cosmo's Orange U Glad Ur Orange Award
Firecracker Hunt Award
Sweeney's Award for Orangeness
Azraels Award for Pals with Special Needs
Phoebes Friends Award for Shelter Pets & Rescue
PURRfect 10 Award from Cat Corner
Helpful Kitty from Minnesota Kitty Society/CLAW Service Award
Be-Mi-Kitties October Site of the Month Award
Pyewackets One of a Kind Great Site Award

---

Sasha & Oskana's Miauaward
Studley's Golden Award for Page Excellence
Qedrin's Home Page Award for Outstanding Sites
Cats -R- Us Award
BlackJack's Best Site Award, 4 Paws up
Kountry Pugs Award of Excellence
Beautiful Paws Award of Excellence
Tiggers Terrific Award
Pye's in Your Face Great Web Site Award
Minnesota Kitty Society Thank You Award
Bubba & Sissy Purrfect Award

---

This Site Sparkles Award From Me And My Shadow
Red Devil Thinks This Site is Hot! From Diabella Love Cats
We Like This Site from the Meezer Trio
February Kitty of the Month from Minnesota Kitty Society
Kroeber's Cool Kitty Site Award
Cindy's Cool Cat of the Web Award
Tweet Award from Claudette
The Scot-Irish Pet Clan Award
Mille's Cute Award
Cat's Pride Friends of Feline's Award
Petsburgh Stable - Outstanding Pet Site Award from Paula

---

Goldstar Birmin Award
Diamond's Solitaire Award
Felis Catus Award of Excellence
I partied at Mille's Birthday Weekend
I scared the Black Bird Away at Mille's Birthday Weekend
Links 2 Go Key site Award
Jessie Loves This Site Awarded to Boomer the Crazy Cat
Runtell's 4 Paws Up Award fr Purrfect Websites
Award of Excellence From Love For Animals
Boomer, A Mew-Rific Minnesota Kitty - August 2000
CLAW Count status over 2000 points

---

Birthday Wishes from Runtell
Birthday Wishes from Kroeber
Birthday Wishes from Mille
Birthday Wishes from Smokey Kitty
Birthday Wishes from the Cat Club Ailurophilia
Birthday Wishes from Boomer (not me)
Little Man Says #1 Woofin Site
Boomer FIRST Place in Runtell's Amazing Kitty Contest
Smurgles Gang Award
Kitty's Jello Award Made Especially by Lucille & Stan
Petsburgh Stable - Outstanding Pet Site Award from Joan Lilly

---

Page Thirteen - Boomer has gone to the Rainbow Bridge

Dragon Lairs Stray Cat Award
Dragon Lairs Silver Award
Ailurophilia Halloween Contest 3rd place Best Costume in Contest
Ailurophilia Halloween Contest 3rd place Best Human Costume
Philippe's Cat of the Month for November Award
Bo's Hearts Always Remember Award
Sebastian's Brave Heart Award
Penmarric's Cornish Rexellent Page Award
Callie's Spoiled Kitty Award
Jay's Purrfect Page Award
Oldham Recue Cats Award
Toby & Caspers 4 Paws Approval Award

---

Lisa's Award To A Beautiful Page
Boogie's Award to Purr For
Joan Lilley's Petsburgh Sparkle Award
Taffy's Memorial Site Award for Boomer
Cool Cyber Cats Awards - from Hamlet & from Itchy
---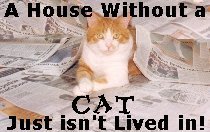 Page
---

E-mail Us
Copyright © 2001-2013 Fluffytails.ca All Rights Reserved
{Boomer} {Seasons} {Crazy?} {Winners} {Animal Welfare} {Rings} {Links & Banners}
{Awards1} {2} {3} {4} {5} {6} {7} {8} {9} {10} {11} {12} {13} {14}

PLEASE LINK MY BANNER BACK TO ME AT: http://www.fluffytails.ca/boomer.asp