The above photos really show how different, the colours of our eyes are. Cool eh! Very green and very gold.

---
A whole page of photos of the both of us together! Yay!
As the years go by, we remain best FURRriends! We cuddle lots together. If you have the chance to get more then one kitty, please do so, they'll really appreciate it. We sure do! Being able to stay together has been the best!!
2 kitties equals twice the fun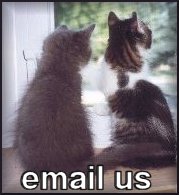 Hope you are enjoying your tour of our life!
Please drop us an email here!

Or sign our guest book.

{New} {Christmas Decorating} {1st Birthday} {3rd Birthday} {Baby Photos} {Win Award} {Links} {Clubs} {Awards Won} {Winners} {Banners} {Socials} {Webrings}

E-mail Us
Copyright © 2001-2013 Fluffytails.ca All Rights Reserved
This page has been viewed times since December 12, 2008