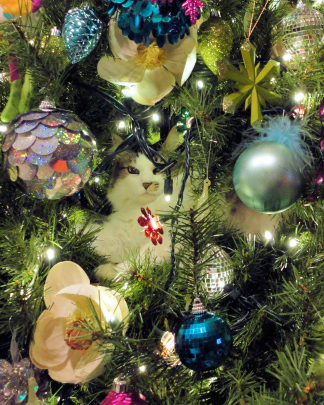 Our first page was getting quite full of photos,
and due to popular demand this 2nd page has
been created!



Of course our kitties Iris and Fern, still run the show!
Its 2015, and so it begins ... again

We are 14 years old now,
so our previous Christmas season's
have given us lots of experience.


We love our "old style" tree, that requires each branch be
put in individually. It's hard work, but well worth it.

These branches are still as sturdy as ever!

Anyway you look at it, this is one fun job.

We are doing good for time, so I'm going to give myself a quick bath.
Being clean increases productivity!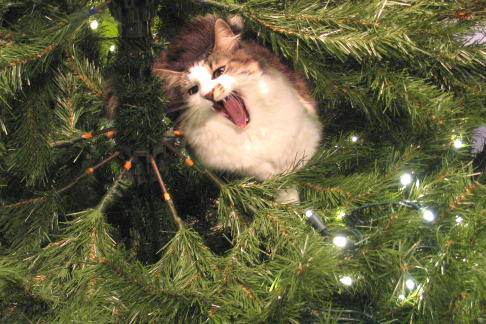 Singing carols is a
wonderful way to get into
the holiday spirit.


"Oh Christmas Tree,
Oh Christmas Tree,
Of all the trees most lovely..."
| | |
| --- | --- |
| Oh my little kitty ears! | Iris, please stop the singing! |
| | |
| --- | --- |
| Alright Fern, let's get back to business. Now which colour lights should we use next? | |


FERN, wake up!!

We are PURRfessionals now,
no cat napping on the job!


Iris, I think your singing
gave me a headache.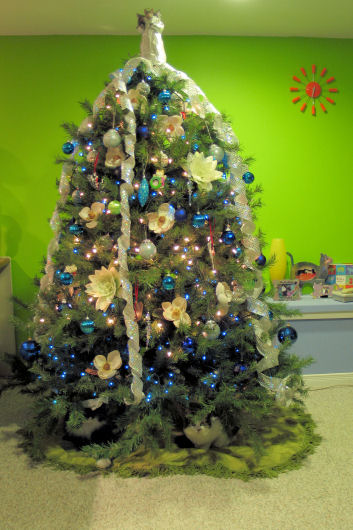 Wow, not sure how it happened,
but we have the tree up and
decorated in record time.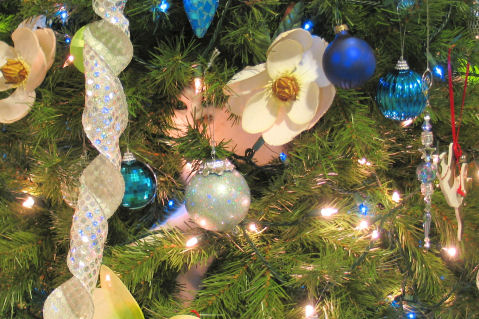 You can't find me right?

Fern & Iris are under the tree.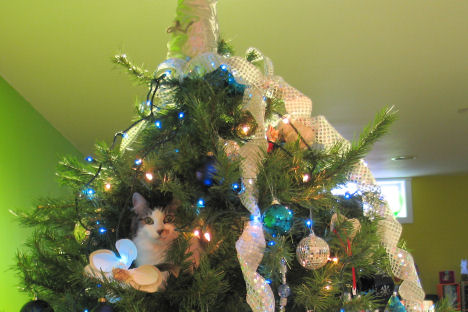 I'm inching my way a little
closer to the top every day.

I plan to be up there with
the angel by Christmas Day!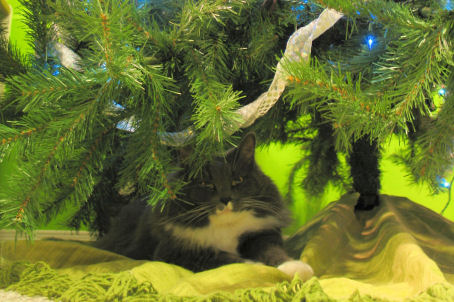 Perhaps I'm showing my
age or my waist line?

But my preferred location is
under the tree.

It is a great place to dart out from
and scare everyone.




Well I didn't say I never go in the tree!
Of course I still do!
Hey, it's fun!






I LOVE being
IN
the tree too!

My tail is dancing
to the song,

"Rockin' Around
the Christmas
Tree"








Yes, I'm a
beauty in
front.

Of course
Iris is
IN the tree ...
AGAIN !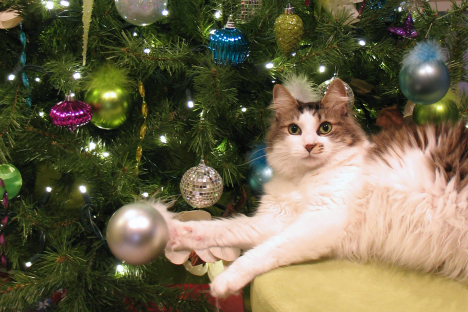 These Christmas balls are
sure fun for swatting.
Look, they even have
feathers on them - like
these weren't
MADE for a CAT!!!






Being IN the tree
or infront,
both are great
catnap locations!




This page and our

1st page

are both on going





with photos spanning 12 years! 2002 to 2014







For years I was quite petite at 6 pounds,
making it very easy to climb in the tree.





Now I'm 13 years old and weigh 10 pounds.
But getting in the tree is still as fun as ever!
What's Christmas without stockings!




Julip loves snoozing under the tree.


Hope 2016 is fabulous!
From the Fluffy Tails crew
sheltie Julip,
Iris and Fern

(click on our names for our individual pages)



Carla & Mark

too!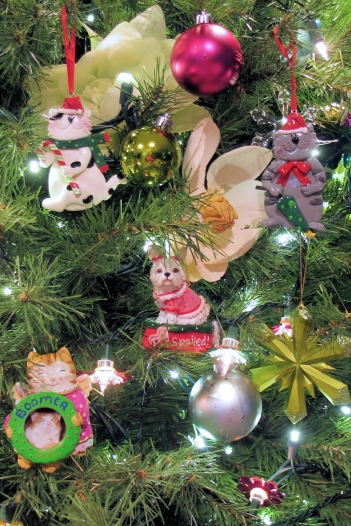 Our ornaments in honour of our pets,
past (Boomer & Jazmyn) & present
(still searching for a Julip / Sheltie one)

Whether its Christmas you celebrate,
or another event.
It is always important to
appreciate
your family & friends,
and this certainly is a great time to do it.
A few more pretty photos of our girls.
Twas the night before Christmas
and all thru the tree,
2 kitties were stirring cute as can be...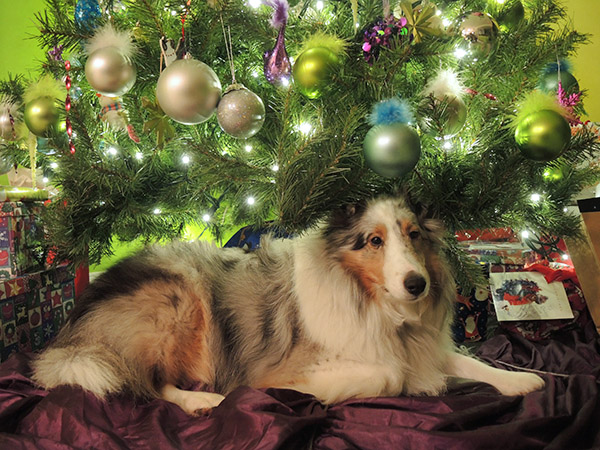 (
wish to return back to
page 1
)

We also run a FUN facebook page for dog stuff!
Enjoy & LIKE here

Click
email us
to send us a note
or sign our guest book below.
{ORIGINAL Christmas Page} {New} {Recent Photos} {Baby Photos} {1st Birthday Party} {Win Award} {Links} {Awards Won} {Winners} {Banners} {Socials} {Webrings}

E-mail Us
Copyright © 2001-2013 Fluffytails.ca All Rights Reserved
This page has been viewed times since December 12, 2008