This is proof,

we wuv each other

furry much!!!

Thanks for the

nice kiss Boomer!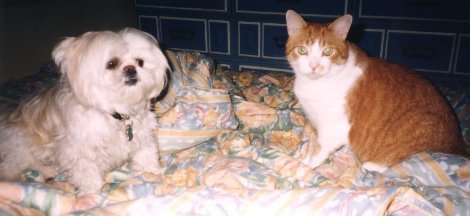 Jazmyn was born July 2 1994. Boomer was born Sept. 14 1993. We were both adopted from a Humane Society as youngsters!
| | |
| --- | --- |
| | There's lots of room on the bed, so sometimes we give each other space. |
And other times we get a little closer.

Usually I, (Jaz) sneak in closer to kinda dig under Boomer.

You like that right Boom?!
Mom says its hard to get a photo of us both looking nicely at the camera.

So these are as good as it gets! :)
Hanging out on the

couch together is fun too!
We share the same water bowl. But obviously eat different food.

Boomer enjoys eating up high, it makes him feel important! Se we'll let him think that he is :)

Hey! Jaz, I'm right here, writing this page with you!! Geeze I get no respect :)
We enjoy playing together lots too. So be sure to return for some play photo's. Mom will be chasing us with that darn camera now to get some of those!
We're a little sleepy now, so off we go to catch some zee's. See ya later. Barks from Jazmyn the Pretty Shih Tzu and Purrs from Boomer the Crazy Cat.
*Update* Boomer passed away on October 25, 2000. Click to see his memorial page. In memory of a very special cat we are leaving his webpages the way they are so others can see what a fabulous kitty he really was.
*Update* Jazmyn passed away on October 25th, 2010. We were lucky to share 16 years with Jazmyn, she was such a part of our lives.


---
---
Obviously Boomer will always hold a VERY special place in our hearts. We are now blessed with more kitties to share our life & love. Please visit Iris & Fern!! our 2 new kitties.

E-mail Us
Copyright © 2001-2013 Fluffytails.ca All Rights Reserved
{Boomer's Memorial Page} {Seasons} {Crazy?} {Awards} {Winners} {Animal Welfare} {Links & Banners}
{Webrings}

Please link Boomer's Banner back to: http://www.fluffytails.ca/boomer.asp